PERCEPTIONS OF SUPERVISORS REGARDING THE UTILITY OF E-LOG SYSTEM FOR MONITORING POSTGRADUATE TRAINING - A QUALITATIVE STUDY: RAWALPINDI, 2016
Hidayat Ullah

Frontier Medical College Abbottabad Pakistan

Usman Mahboob

Institute of Health Professions Education & Research, KMU Peshawar Pakistan

Syed Azhar Ul Hassan Shah

National University of Medical Sciences (NUMS) Rawalpindi Pakistan

Atiq Ur Rehman Slehria

Armed Forces Institute of Radiology & Imaging/National University of Medical Sciences (NUMS) Rawalpindi Pakistan
Keywords:
Assessment, Interpretivist qualitative research, Medical education, Postgraduate training
Abstract
Objective: To explore supervisors' perceptions about the utility of E-Log system used for monitoring postgraduate training.
Study Design: Interpretivist qualitative research.
Place and Duration of Study: Military teaching hospitals (Military and Combined Military) and Institutes (Armed Forces Institutes of Radiology, Cardiology, Ophthalmology, Mental Health, Urology, Pathology) at Rawalpindi, from Jul to Dec 2016.
Material and Methods: Maximum variation purposive sampling technique was used to collect data from postgraduate training supervisors from various specialties with more than four years teaching experience. Participants were interviewed using a semi structured interview guide. The interviews were digitally recorded and transcribed. Thematic analysis of the qualitative data was carried out using software NVivo 7. Tree nodes (codes) were developed and arranged in different categories leading to discrete themes.
Results: Data were collected from 16 postgraduate training supervisors, three of them being females. A total of 101 codes were developed, leading to 17 sub-themes which gave rise to four distinct themes elaborating awareness about the importance of E-log system as a tool for monitoring of postgraduate training, its utility, factors affecting the working of this system followed by suggestions to improve the system and thus its utility.
Conclusion: The E-Log system was considered a convenient means of monitoring postgraduate training and had conditional acceptability among supervisors. It was felt that there was a need to enhance awareness regarding the importance and utility of this system. Key suggestions offered were organizing mandatory medical education workshops, arranging teaching videos, improving the software and the way of its checking, introducing faculty committees, limiting number of trainees per supervisor, taking steps against password sharing and a better communication between the monitoring body and supervisors.
Downloads
Download data is not yet available.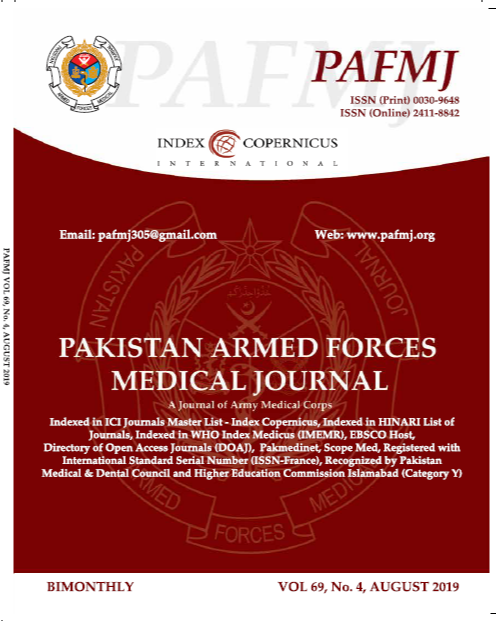 How to Cite
Ullah, H., Mahboob, U., Shah, S. A., & Slehria, A. U. (2019). PERCEPTIONS OF SUPERVISORS REGARDING THE UTILITY OF E-LOG SYSTEM FOR MONITORING POSTGRADUATE TRAINING - A QUALITATIVE STUDY: RAWALPINDI, 2016. Pakistan Armed Forces Medical Journal, 69(4), 911-19. Retrieved from https://pafmj.org/index.php/PAFMJ/article/view/3224
Section
Original Articles