FREQUENCY OF ELEVATED HIGH-SENSITIVITY TROPONIN T AND ASSOCIATED CARDIAC PREDICTORS IN HIGH-GRADE ATRIOVENTRICULAR BLOCK PATIENTS WITH NON-ISCHEMIC ECG CHANGES
Hafiz Abdul Manaan

Punjab Institute of Cardiology, Lahore Pakistan

Abdul Sattar

Gujranwala Medical College, Gujranwala Pakistan

Imran Saleem

Punjab Institute of Cardiology, Lahore Pakistan

Shamila Afshan

Punjab Institute of Cardiology, Lahore Pakistan
Keywords:
Atrioventricular block, High-grade heart block, Elevated troponin T, Non-ischemic heart block
Abstract
Objective: To assess the frequency of raised hs-TnT levels in patients with non-ischemic high-grade atrioventricular (AV) blocks and also to assess the cardiac risk factors in these patients.
Study Design: Prospective, cross-sectional analytical study.
Place and Duration of Study: This study conducted in the emergency department of Punjab Institute of cardiology, Lahore Pakistan, from Mar 2017 to Jun 2018.
Patients and Methods: Patients with advanced 2nd degree and 3rd degree AV blocks, diagnosed on a 12-lead electrocardiogram (ECG), and no ischemic changes on the ECG were included. hs-TnT levels were done for all patients. All patients filled a preformed questionnaire. Data were entered and analyzed using IBM-SPSS-23.
Results: Of the 138 patients recruited, 60.9% were male patients. The mean age of the study participants was 63.13 ± 14.73 years. Syncope was the most common presentation (78.3%). hs-TnT levels were elevated in 55.8% participants. Elevated Trop T levels were more common in male patients (63.6%). Elevated Trop T levels were significantly associated with co-morbidities including diabetes, hypertension, and smoking, and clinical presence of chest pain and syncope (p>0.05).
Conclusion: Patients with non-ischemic high-grade AV blocks present with syncope. Even in absence of ischemia, troponin levels were seen in many participants. Elevated Trop T levels cannot be considered pathognomonic for myocardial ischemia.
Downloads
Download data is not yet available.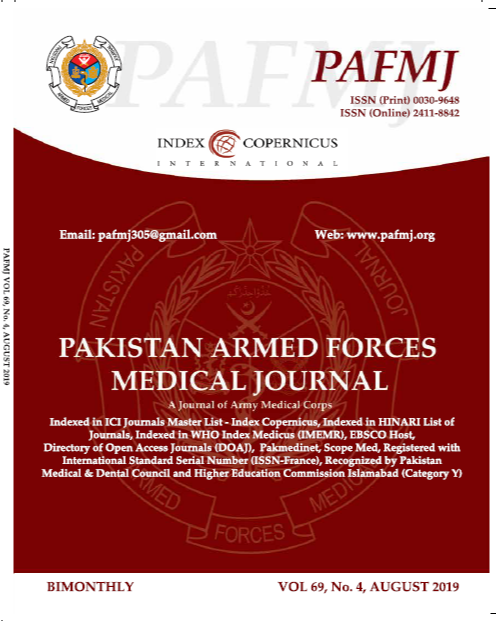 How to Cite
Manaan, H., Sattar, A., Saleem, I., & Afshan, S. (2019). FREQUENCY OF ELEVATED HIGH-SENSITIVITY TROPONIN T AND ASSOCIATED CARDIAC PREDICTORS IN HIGH-GRADE ATRIOVENTRICULAR BLOCK PATIENTS WITH NON-ISCHEMIC ECG CHANGES. Pakistan Armed Forces Medical Journal, 69(4), 901-04. Retrieved from https://pafmj.org/index.php/PAFMJ/article/view/3222
Section
Original Articles