DIAGNOSTIC ACCURACY OF GENEXPERT ASSAY AND COMPARISON WITH SMEAR AFB ON BRONCHIAL WASHINGS IN SPUTUM NEGATIVE SUSPECTED PULMONARY TUBERCULOSIS
Mahmood Iqbal Malik

Pak Emirates Military Hospital/National University of Medical Sciences (NUMS) Rawalpindi Pakistan

Taymmia Ejaz

Pak Emirates Military Hospital/National University of Medical Sciences (NUMS) Rawalpindi Pakistan

Jamal Ahmed

Pak Emirates Military Hospital/National University of Medical Sciences (NUMS) Rawalpindi Pakistan

Komal Arshad

Pak Emirates Military Hospital/National University of Medical Sciences (NUMS) Rawalpindi Pakistan

Yousaf Jamal

Pak Emirates Military Hospital/National University of Medical Sciences (NUMS) Rawalpindi Pakistan

Zeenat Zohfreen

Pak Emirates Military Hospital/National University of Medical Sciences (NUMS) Rawalpindi Pakistan
Keywords:
Bronchoalveolar lavage fluid/microbiology, Bronchoscopy, Tuberculosis
Abstract
Objective: To determine diagnostic accuracy of GeneXpert Assay and compare it with smear microscopy for AFB in terms of sensitivity, specificity on bronchial washings/bronchoalveolar lavage samples in sputum smear negative suspected tuberculosis.
Study Design: A prospective cross sectional analytical study.
Place and Duration of Study: Pulmonology Department, Pak Emirates Military Hospital Rawalpindi, from Jul to Dec 2018.
Materials and Methods: Patients older than 12 years with suspected sputum negative tuberculosis were included in the study. Bronchoscopy findings were noted, bronchoalveolar lavage fluid/bronchial washings were taken. Samples were sent for AFB smear; GeneXpert Assay and Cultures. Data was analyzed in SPSS version 23.
Results: A total of 224 patients were included in the study. 151 (67.4%) were males and 73 (32.6%) females. Mean age was 48.25 ± SD 18.21. Flexible bronchoscopy was diagnostic for tuberculosis in overall 42.4% (95/224) cases. Smear microscopy for AFB was positive in 53 (23.7%) cases, GeneXpert in 82 (36.6%) cases, culture in 66 (29%) cases while 6 cases (2.7%) showed rifampicin resistance on GeneXpert RIF resistance assay. Sensitivity, specificity, PPV and NPV of smear microscopy were 69.6%, 95.5%, 86.7%, 88.3% respectively whereas for GeneXpert they were 86.36%, 84.1%, 69.5%. 93.66% respectively; when compared to culture considered as gold standard. GeneXpert assay activity had statistically significant (p-value<0.01) association with smear and culture positivity.
Conclusion: GeneXpert assay had higher sensitivity than AFB smear microscopy and it is a rapid and effective tool on bronchial washings, reducing the time constraint associated with culture based diagnosis and determining Rifampin Resistance simultaneously.
Downloads
Download data is not yet available.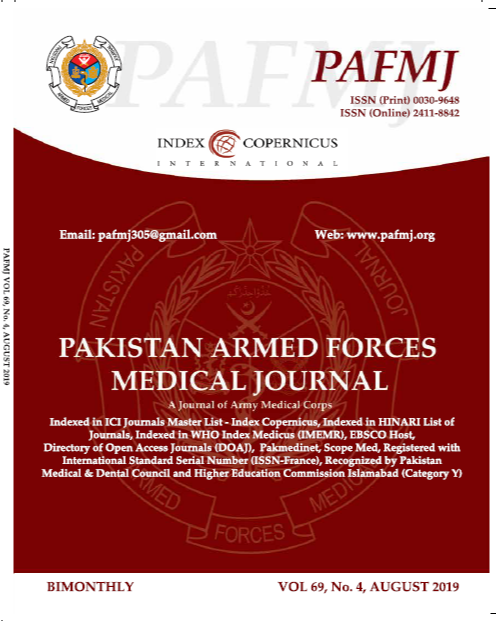 How to Cite
Malik, M., Ejaz, T., Ahmed, J., Arshad, K., Jamal, Y., & Zohfreen, Z. (2019). DIAGNOSTIC ACCURACY OF GENEXPERT ASSAY AND COMPARISON WITH SMEAR AFB ON BRONCHIAL WASHINGS IN SPUTUM NEGATIVE SUSPECTED PULMONARY TUBERCULOSIS. Pakistan Armed Forces Medical Journal, 69(4), 857-62. Retrieved from https://pafmj.org/index.php/PAFMJ/article/view/3214
Section
Original Articles