TO IDENTIFY PATTERN OF CONGENITAL HEART DISEASES IN A NEWLY DEVELOPED TERTIARY CARE UNIT
Tayyaba Sehar

Rawalpindi Institute of Cardiology, Rawalpindi Pakistan

Abdul Malik Sheikh

Rawalpindi Institute of Cardiology, Rawalpindi Pakistan

Asma Kanwal

Rawalpindi Institute of Cardiology, Rawalpindi Pakistan
Keywords:
Acyanotic heart defects, Atrial septal defect, Congenital heart disease, Patent ductus arteriosus, Ventricular septal defect
Abstract
Objective: To determine the age distribution, gender and pattern of congenital heart diseases in pediatric and adult population in a newly developed tertiary care centre.
Study Design: Retrospective observational study.
Place and Duration of Study: Rawalpindi Institute of Cardiology, Rawalpindi, from Jan 2016 to Dec 2016.
Patients and Methods: Data of patients presenting for the first time in pediatric unit between Jan 2016 to Dec 2016 was collected. It consisted of 5128 echocardiographies, all done by consultant pediatric cardiologist. Demographical profile, gender predisposition and various types of heart defects were analyzed using SPSS version 17.
Results: Among enrolled patients 2461 (48%) were females and 2666 (52%) were male patients. The ages of patient ranged from newborn babies to adults upto 60 years of age. Out of five thousand one hundred twenty eight (5128) echocardiographies done, 82.9% had congenital heart defects and two hundred fifty five patients (5%) had acquired heart defects. Acyanotic heart defects were more common (72%). Among acyanotic heart defects Ventricular septal defect (VSD) was the most common lesion 1172 (27%) of all congenital heart defects. In cyanotic heart defects Tetrology of Fallot (TOF) is most common 468 (10.9%). 632 (54%) of VSD cases were male. Pulmonary stenosis was most common obstructive lesion 170 (4%) follow by Aortic stenosis 63 (1.5%). Mital valve prolapse was most common congenital valvular lesion 89 (2.1%). Dilated cardiomyopathy was most common congenital cardiomyopathy 129 (3%). Sixteen case of Eisenmenger syndrome were diagnosed with female
preponderance (F:M 1.6:1).
Conclusion: Late presentation of VSD with complications and TOF were the common phenomenon in our setup. Identifying the pattern of diseases and their presentations can help to devise effective programme for early diagnosis and interventions in congenital and pediatric heart diseases.
Downloads
Download data is not yet available.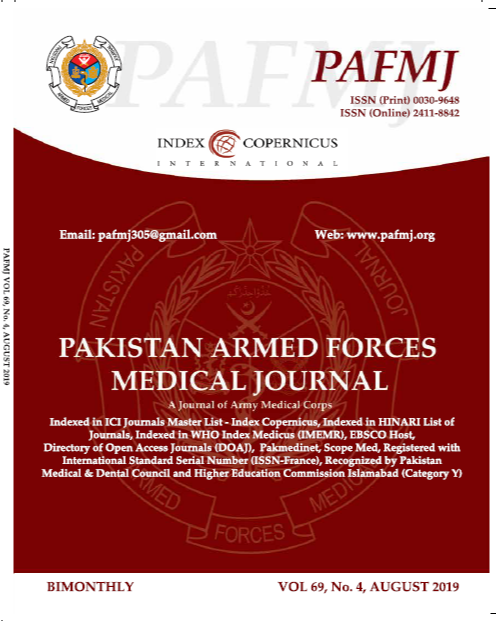 How to Cite
Sehar, T., Sheikh, A., & Kanwal, A. (2019). TO IDENTIFY PATTERN OF CONGENITAL HEART DISEASES IN A NEWLY DEVELOPED TERTIARY CARE UNIT. Pakistan Armed Forces Medical Journal, 69(4), 831-36. Retrieved from https://pafmj.org/index.php/PAFMJ/article/view/3209
Section
Original Articles