ROLE OF DELAYED PHASE TUMOR CONTRAST WASHOUT IN PATIENTS OF HEPATOCELLULAR CARCINOMA ON COMPUTED TOMOGRAPHY
Ayesha Munir

Pakistan Institute of Medical Sciences, Islamabad Pakistan

Shahla Zameer

Pakistan Institute of Medical Sciences, Islamabad Pakistan
Keywords:
Delayed phase, Hepatocellular carcinoma, Multiple detector computed tomography, , Tumor Washout
Abstract
Objective: To evaluate role of delayed phase tumor contrast washout in patients of hepatocellular carcinoma on computed tomography.
Study Design: Comparative - cross-sectional study.
Place and Duration of Study: Study was conducted in Department of Radiology, Pakistan Institute of Medical Sciences and Islamabad, from Jan 2017 to Jul 2017.
Material and Methods: A total of 54 patients with diagnosed HCCs on the basis of clinical, radiological and histopathological findings were included in the study. All the patients of HCC underwent Multiple detector computed tomography (MDCT) examination. A standard liver CT protocol was followed in all patients. All patients were given a non-ionic contrast medium having 350mg per ml concentration. The CT images were studied by two radiologists. Data was analyzed by SPSS version 20.
Results: Total 79 hepatic cellular carcinomas were detected in 54 patients on MDCT on at least one imaging phase. The overall mean tumor size was 5.2 ± 1.79 cm, 64 (81%) were hypervascular and 15 (19%) were hypovascular. The subjective washout was found statistically significant (2=16.80, p-value=0.0001) for more tumors on delayed phase images (77.3% vs. 22.67%) as compared to hepatic venous phase images. The absolute value of
mean tumor to liver contrast was significantly (p-value <0.05) higher on delayed phase images, (15 HU) in comparison to hepatic venous phase images (4 HU).
Conclusion: On multiphasic MDCT the delayed phase has appreciably higher rate of detection of tumor washout in comparison to hepatic venous phase.
Downloads
Download data is not yet available.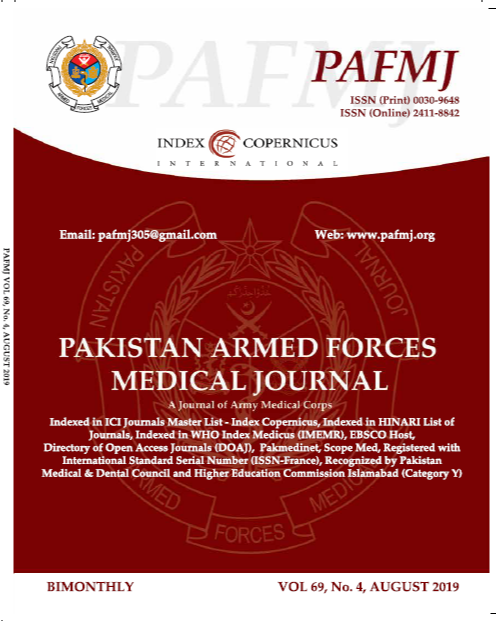 How to Cite
Munir, A., & Zameer, S. (2019). ROLE OF DELAYED PHASE TUMOR CONTRAST WASHOUT IN PATIENTS OF HEPATOCELLULAR CARCINOMA ON COMPUTED TOMOGRAPHY. Pakistan Armed Forces Medical Journal, 69(4), 826-30. Retrieved from https://pafmj.org/index.php/PAFMJ/article/view/3208
Section
Original Articles