PRESENCE OF NON-ALCOHOLIC FATTY LIVER DISEASE IN PATIENTS OF UNCONTROLLED AND CONTROLLED TYPE 2 DIABETES MELLITUS
Aqeela Rashid

Allama Iqbal Medical College/Jinnah Hospital, Lahore Pakistan

Sana Zafar

Allama Iqbal Medical College/Jinnah Hospital, Lahore Pakistan

Aamir Bashir

Shaukat Khanum Memorial Cancer Hospital & Research Centre Lahore Pakistan

Khush Bakht

Allama Iqbal Medical College/Jinnah Hospital, Lahore Pakistan

Aman Ullah Bhalli

Allama Iqbal Medical College/Jinnah Hospital, Lahore Pakistan
Keywords:
Diabetes mellitus, HbA1c, Non-alcoholic fatty liver disease, Steatosis
Abstract
Objectives: To determine the presence of non-alcoholic fatty liver disease in patients of uncontrolled and controlled type 2 diabetes mellitus.
Study Design: Cross sectional study.
Place and Duration of Study: Jinnah Allama Iqbal Institute of Diabetes and Endocrinology (JAIDE)/Jinnah Hospital Lahore, from Sep 2017 to Nov 2017.
Material and Methods: Our study included 127 patients between 25-75 years of age and of either gender who presented in Jinnah Allama Iqbal Institute of Diabetes and Endocrinology (JAIDE) during the year of 2017. Patient details including demographic data, HbA1c and blood glucose random were collected. Nonalcoholic fatty liver disease (NAFLD) was diagnosed on ultrasonography as per criteria. The data were analyzed in SPSS version 21. Quantitative data were presented as mean and standard deviation and qualitative data as frequency and percentages. Chi-square test was used to assess any statistical significance with p-value ≤0.05.
Results: Among 127 patients, with mean age of 45.1 ± 9.3 years, males were 38.6% and females were 61.4%. The average duration of diabetes was 6.3 ± 4.5 years. Mean blood sugar random was 300 ± 113 mg/dL and mean HbA1c was 9.3% ± 2.1. Overall, NAFLD status was found in 100 (78.7%) and it was negative in 27 (21.3%). Out of 101 patients with uncontrolled diabetes, 98% patients were positive for NAFLD, while in 26 patients with controlled diabetes, NAFLD was found only in 2% patients showing statistically significant results (p<0.000).
Conclusion: Non-alcoholic fatty liver disease is more prevalent in patients with uncontrolled type 2 diabetes mellitus as compared to controlled diabetics.
Downloads
Download data is not yet available.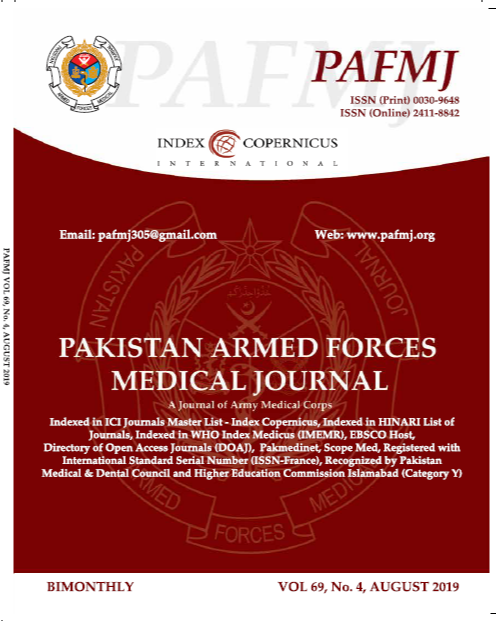 How to Cite
Rashid, A., Zafar, S., Bashir, A., Bakht, K., & Bhalli, A. (2019). PRESENCE OF NON-ALCOHOLIC FATTY LIVER DISEASE IN PATIENTS OF UNCONTROLLED AND CONTROLLED TYPE 2 DIABETES MELLITUS. Pakistan Armed Forces Medical Journal, 69(4), 822-25. Retrieved from https://pafmj.org/index.php/PAFMJ/article/view/3207
Section
Original Articles