UNIVERSAL VS SELECTIVE SCREENING OF GESTATIONAL DIABETES MELLITUS BY ORAL GLUCOSE TOLERANCE TEST AT 24-28 WEEKS PREGNANCY
Keywords:
Gestational diabetes mellitus, Impaired glucose tolerance, Oral glucose tolerance test
Abstract
Objective: To compare universal screening of pregnant ladies for Gestational Diabetes Mellitus (GDM) with selective high risk screening by one step Oral Glucose Tolerance Test (OGTT) at 24-28 weeks pregnancy.
Study Design: Comparative cross-sectional study.
Place and Duration of Study: The study was conducted in the Gynecology and Pathology Departments of Pak Emirates Military Hospital, Rawalpindi, from Jul 2017 to Dec 2017.
Material and Methods: One hundred participants were selected between 24-28 weeks of pregnancy. Fifty were placed in universal screening group with no identifiable risk factors for GDM. Fifty participants had risk factors for developing GDM and were placed in selective screening group. Oral Glucose Tolerance Test (OGTT) was performed by using 75gm glucose in all patients in fasting phase. The results were statistically analyzed to see the frequency of GDM and impaired glucose tolerance in both groups. Common risk factors were also observed.
Results: GDM was found in 42% pregnant ladies who had risk factors for developing GDM and underwent selective screening. 32% had impaired glucose tolerance on OGTT. In the universal screening group, 26% had impaired glucose tolerance, 14% had GDM and 60% had normal results. The p-value was 0.002, Family history of diabetes mellitus was the most common factor found in 60% of patients. Obesity was found in 38%. Amongst the risk factors, increasing maternal age and previous obstetric losses, 36% and 22% respectively, were commonly found in patients who underwent selective screening for GDM.
Conclusion: In conclusion, GDM and impaired glucose tolerance was found in a significant number of pregnant ladies who underwent universal screening without risk factors. Universal screening is recommended in all pregnant ladies in our setting as diabetes mellitus is highly prevalent in this region.
Downloads
Download data is not yet available.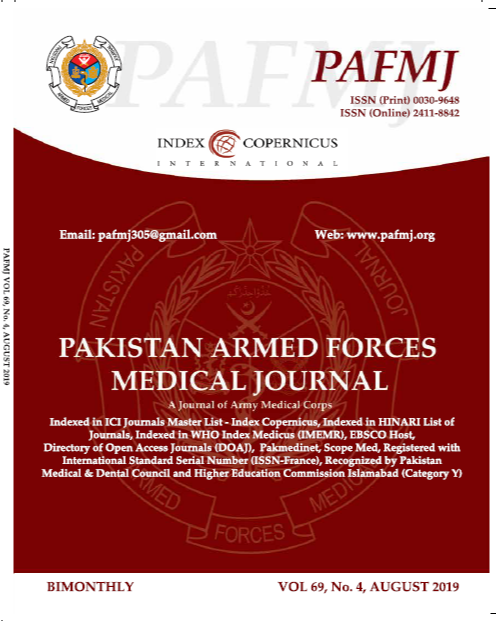 Downloads
How to Cite
Tariq, H., Siraj, A., Sarfraz, T., Ansari, A., & Arif, A. (2019). UNIVERSAL VS SELECTIVE SCREENING OF GESTATIONAL DIABETES MELLITUS BY ORAL GLUCOSE TOLERANCE TEST AT 24-28 WEEKS PREGNANCY. Pakistan Armed Forces Medical Journal, 69(4), 795–800. Retrieved from https://pafmj.org/index.php/PAFMJ/article/view/3202
Section
Original Articles