SOCIAL ACCOUNTABILITY OF A MEDICAL COLLEGE IN PAKISTAN - A CASE STUDY
Mahmood -Ur- Rahman

Heavy Industries Taxila Education City (HITEC) Taxila/National University of Medical Sciences (NUMS) Pakistan

Rehan Ahmad Khan

Islamic International Medical College/Riphah University Islamabad, Pakistan

Syed Fawad Mashaddi

Army Medical College/National University of Medical Sciences (NUMS) Rawalpindi Pakistan
Keywords:
Community health problems, Processer and usability model, social accountability
Abstract
Objective: To determine perception of faculty regarding social accountability of a private medical college.
Study Design: Qualitative case study.
Place and Duration of Study: The study was done at Islamic International Medical College of Riphah University Pakistan, from Jan 2017 to Jan 2018.
Material and Methods: Purposive sampling was done to collect data from 21 faculty members after informed consent. Interviews were done using open ended semi-structured questions to the point of saturation. The interview questions were based on Conceptualization, Processes and Usability Model (CPU). Triangulation for reliability was achieved by using multiple interviewees and co-investigator for data collection. The interviews were audio recorded and thematic analysis was done using NVivo software.
Results: Six themes emerged from data analysis. Subthemes for each theme were grouped with frequency of responses. Theme of social accountability included type of student produced, productivity and impact on population as subthemes. Second theme, major health issues of Pakistan had curriculum, expert input and vision as subthemes. Theme "inculcation of community health problems" included priority given to community health problems, educational program, health outcomes. Theme "predetermined competencies" comprised of stakeholders, and prospectus subthemes. Fifth theme "underprivileged students and admission process" considered railway employees, preventive aspect and student's society as subthemes. Finally, motivation to work, role of college and future employment were the subthemes for "exposure to underserved population".
Conclusion: Concept of social accountability is new to the faculty. A comparison between private and public sector needs to be drawn. If Social Accountability is to be taken up seriously by the medical education institutes across Pakistan, so they can contribute actively toward delivery of healthcare which is equitable, relevant, costeffective and quality-driven, and which has a demonstrable impact on the health indicators of the communities it serves, then a major revision of the teaching and training programs needs to ensue. There must be a national consensus on the conceptual framework driving curricular change, with the end-object not being production of under-graduate medical doctors but, rather, a demonstrable and measurable impact on actual health outcomes of the society.
Downloads
Download data is not yet available.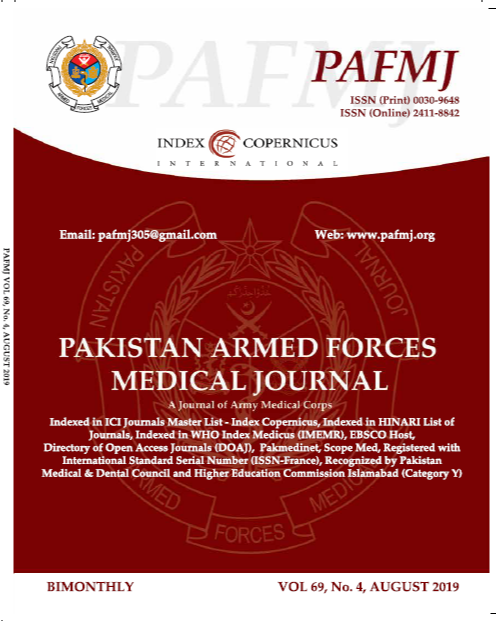 How to Cite
Rahman, M., Khan, R., & Mashaddi, S. (2019). SOCIAL ACCOUNTABILITY OF A MEDICAL COLLEGE IN PAKISTAN - A CASE STUDY. Pakistan Armed Forces Medical Journal, 69(4), 735-41. Retrieved from https://pafmj.org/index.php/PAFMJ/article/view/3191
Section
Original Articles