HIGH RESOLUTION CT CHEST (HRCT)
Afshan Fayyaz

Consultant Radiologist & Professor of Radiology COMDT AFIRI, Rawalpindi Pakistan
Abstract
As a radiologist, I want to highlight a few facts about HRCT chest. Generally the referring physicians have some confusion about the examination. At times we get referrals of HRCT chest of patients who have focal lung lesions, or we get referrals of HRCT chest with contrast, or HRCT chest is advised by clinicians for pulmonary embolism. So I would like to highlight a few facts about chest CT, particularly HRCT chest.
The examination of HRCT chest is done without contrast. The lung parenchyma is traceable to the lung periphery and secondary pulmonary lobules are seen. In cases of interstitial lung disease, the site and pattern of involvement usually leads us to correct diagnosis, as for example, if the disease is sited at lung bases with honeycombing, this case is almost 100% specific for idiopathic interstitial fibrosis. Interstitial pattern of disease is recognizable in its initial stages and treatable causes of this disease can be reversed. Similarly, areas of air trapping on HRCT can point towards a diagnosis of obliterative bronchiolitis/emphysema and coupled with expiratory scan can accurately make the diagnosis.
Downloads
Download data is not yet available.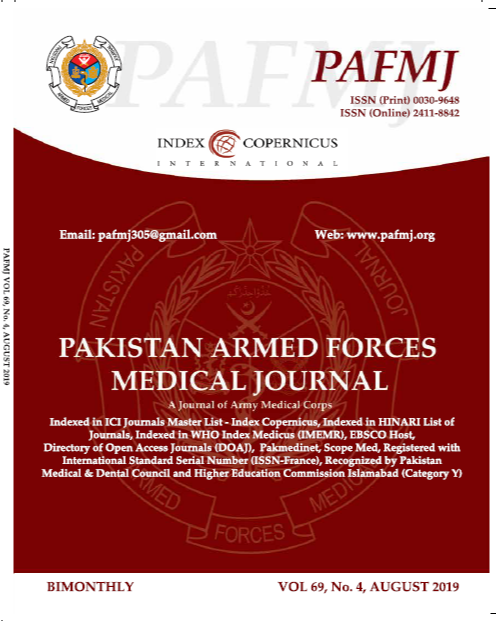 How to Cite
Fayyaz, A. (2019). HIGH RESOLUTION CT CHEST (HRCT). Pakistan Armed Forces Medical Journal, 69(4), 733-34. Retrieved from https://pafmj.org/index.php/PAFMJ/article/view/3190