SPONTANEOUS SUBLINGUAL HEMATOMA; A RARE EMERGENCY
Keywords:
Pseudo–Ludwig's angina, Sublingual hematoma, Warfarin
Abstract
Sublingual hematoma or pseudo-Ludwig's phenomenon, is a rare entity seen in anticoagulated patients and can precipitate upper airway obstruction. We present a case of sublingual haematoma with huge swelling in the floor of mouth that impending airway compromise in a mitral valve replaced patient with ominously deranged coagulation profile. Multiple cases reported in the literature of spontaneous sub-mental hematoma with varying management plans, including: conservative management with close observation in IMCU/ICU, prophylactically securing the airways with elective intubation and/or emergency tracheostomy. Some authors proposed an evacuation the hematoma through an incision along the floor of the mouth. This case was kept under intensive care with strict vitals and airway monitoring and managed conservatively.
Downloads
Download data is not yet available.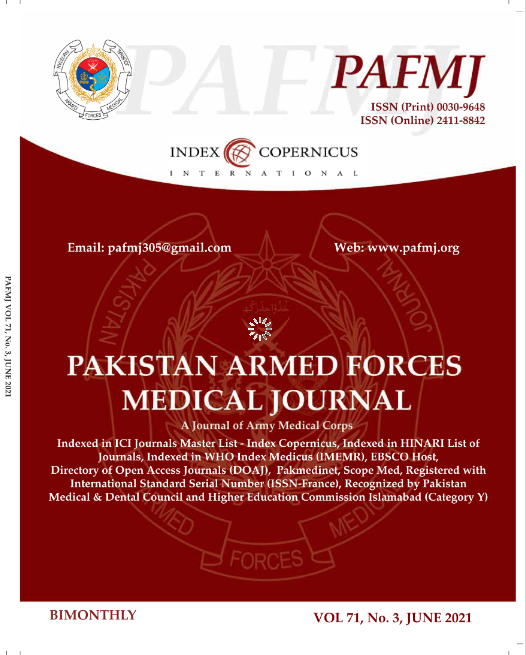 Downloads
How to Cite
Malik, K. Z., Abdullah, A., & Maka, T. A. (2021). SPONTANEOUS SUBLINGUAL HEMATOMA; A RARE EMERGENCY. Pakistan Armed Forces Medical Journal, 71(3), 1121–23. https://doi.org/10.51253/pafmj.v71i3.3172