Comparison of Corneal Endothelium in Patients with Uveitis and Healthy Subjects Using Specular Microscopy
Qurat ul Ain Ghazanfar

Armed Forces Institute of Ophthalmology (AFIO)/National University of Medical Sciences (NUMS) Rawalpindi Pakistan

Omar Zafar

Armed Forces Institute of Ophthalmology (AFIO)/National University of Medical Sciences (NUMS) Rawalpindi Pakistan

Noman Nazir Ahmed

Armed Forces Institute of Ophthalmology (AFIO)/National University of Medical Sciences (NUMS) Rawalpindi Pakistan

Muhammad Manzoor Awan

Armed Forces Institute of Ophthalmology (AFIO)/National University of Medical Sciences (NUMS) Rawalpindi Pakistan
Keywords:
Anterior uveitis, Corneal endothelium, Specular microscopy
Abstract
Objective: To evaluate changes in corneal endothelium in patients with anterior uveitis by using specular microscopy and compare it with the corneal endothelium of healthy subjects.
Study Design: Comparative cross-sectional study.
Place and Duration of Study: Armed Forces Institute of Ophthalmology, Rawalpindi Pakistan, from Jun 2018 to Jun 2019.
Methodology: This study included 65 eyes of 65 patients with anterior uveitis and 65 eyes of healthy subjects. Corneal endothelium was assessed in all participants of both Groups by using Specular microscopy. Corneal endothelial markers like central corneal thickness (CCT), cell density (CD), cell minimum area, cell maximum area, the average of cell size, percent of hexagonality (HEX%), coefficient of variation (CV) were compared in both Groups. The Uveitis Group was further subdivided into active and inactive Uveitis Subgroups, and corneal endothelium markers were also compared in these Subgroups.
Results: The mean endothelial cell density was 2626.0±413.0 cells/mm² in patients with uveitis, whereas cell density was 2766.0±327.0 cells/mm² in healthy subjects. The difference in endothelial cell density was statistically significant between the Groups (p=0.03). The difference between central corneal thickness, maximum cell area, average cell size and hexagonality values between Groups was also statistically significant, whereas there was no difference in terms of cell minimum area between these Groups. There was no statistically significant difference between inactive and active uveitis when corneal endothelial markers were compared between them (p>0.05).
Conclusion: There was an effect of uveitis on central corneal thickness, endothelial cell density, cell size, and morphology compared to healthy subjects,......
Downloads
Download data is not yet available.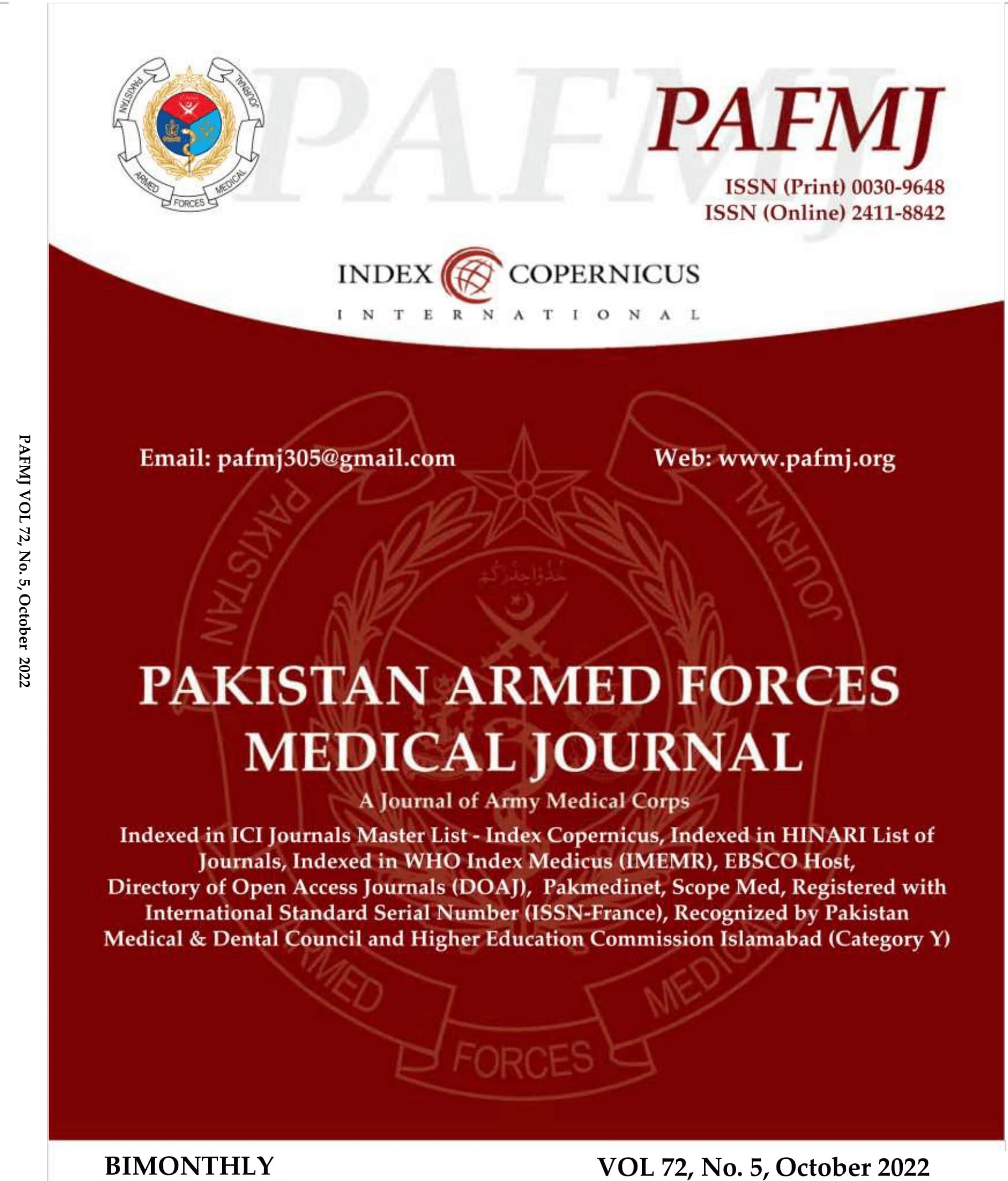 How to Cite
Ghazanfar, Q. ul, Zafar, O., Ahmed, N., & Awan, M. (2022). Comparison of Corneal Endothelium in Patients with Uveitis and Healthy Subjects Using Specular Microscopy. Pakistan Armed Forces Medical Journal, 72(5), 1510-13. https://doi.org/10.51253/pafmj.v72i5.3168
Section
Original Articles