Correlation of Mean pH, HCO3 and CO2 Between Arterial Blood Gases and Venous Blood Gases in Critically Ill Patients
Sanam Haneef

Pakistan Naval Ship Shifa Hospital, Karachi Pakistan

Raza Jaffer

Army Medical College/National University of Medical Sciences (NUMS) Rawalpindi Pakistan

Aamir Ijaz

Rehman Medical College, Peshawar Pakistan

Qurrat-ul Ain

Combined Military Hospital Gilgit/National University of Medical Sciences (NUMS) Pakistan

Saba Aman

PNS Shifa Karachi

Uzma Ansari

Pakistan Naval Ship Shifa Hospital, Karachi Pakistan
Keywords:
Arterial blood gases, Critically ill patients, Venous blood gases
Abstract
Objective: To determine the correlation of mean pH, HCO3 and CO2 between arterial and venous blood specimens in critically ill patients.
Study Design: Cross-sectional study.
Place and Duration of Study: Department of Chemical Pathology and Endocrinology, Armed Forces Institute of Pathology (AFIP), Rawalpindi, from Apr to Oct 2015.
Methodology: Forty critically ill patients admitted to the Intensive Care Unit were selected. Analysis of arterial blood gases followed by venous blood gases of the same patient was carried out after collection in lithium heparin tubes. Specimens were analyzed on COBAS 221 fully automated ABGs and an electrolyte analyzer.
Results: Out of 40 patients, 30 (75%) were males. The average age was 57.78±7.64 years. The p-value of pH and HCO3 was 0.259 and 0.921, respectively. The CO2 in VBGs was 58.10±11.35 mm Hg versus 36.32±6.69 mm Hg in ABG, with a p-value of 0.001, which was statistically significant.
Conclusion: In critically ill patients, pH and HCO3 levels of venous blood gases were comparable with ABG. VBG CO2 was significantly higher than ABGs.
Downloads
Download data is not yet available.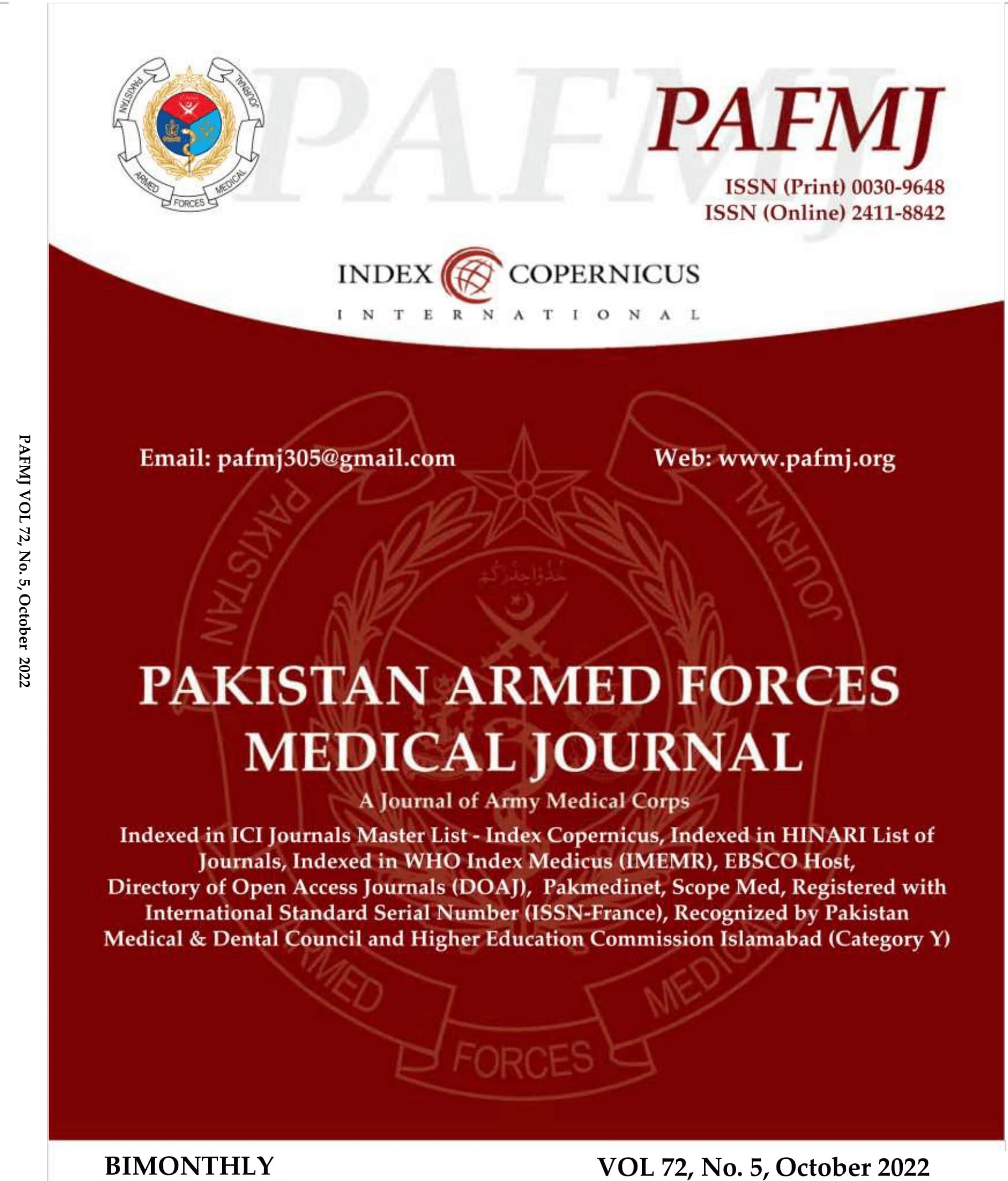 How to Cite
Haneef, S., Jaffer, R., Ijaz, A., Ain, Q.- ul, Aman, S., & Ansari, U. (2022). Correlation of Mean pH, HCO3 and CO2 Between Arterial Blood Gases and Venous Blood Gases in Critically Ill Patients. Pakistan Armed Forces Medical Journal, 72(5), 1526-30. https://doi.org/10.51253/pafmj.v72i5.3156
Section
Original Articles