HEARING HANDICAP IN OLDER ADULTS: A MULTI-CENTER STUDY
Keywords:
Aging, Age related hearing loss, Hearing loss, Hearing handicap, Older adults, Prevalence, Quality of life
Abstract
Objective: To determine the level of hearing handicap and its age and gender association in older adults.
Study Design: Cross sectional analytical study.
Place and Duration of Study: Study conducted at Ear, Nose & Throat outpatients of Yusra General Hospital, National Institute of Rehabilitation Medicine Islamabad and Cantonment General Hospital Rawalpindi, from Jul to Sep 2017.
Methodology: We recruited two hundred cases of self-reported hearing difficulty, using non-probability consecutive sampling, who fulfilled inclusion criteria. After recording demographic details including history, subjects were screened by the Screening Version of Hearing Handicap Inventory for the Elderly (HHIE-S). Followed by otoscopy and pure tone audiometry. Analysis was done using SPSS-24.
Results: Study revealed 133 (65.5%) males and 67 (33.5%) females with mean age of 65.45 ± 7.50 years. Out of 179 (89.5%) had significantly high level of hearing handicap with HHIE-S score >43, while 21 (10.5%) revealed mild to moderate handicap with score of 17-42. Hearing handicap was significantly associated with aging (p<0.001), while no significant gender association was noted. Hearing loss was mainly of sensory-neural type 192 (96%).
Conclusion: In older adults with self-reported hearing loss, high level of hearing handicap was present in majority (89.5%) and mild to moderate in 10.5%, with significant association with aging and hearing loss was predominantly sensory- neural type.
Downloads
Download data is not yet available.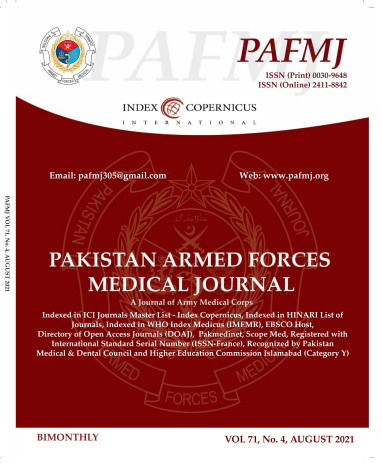 Downloads
How to Cite
Zahra, G. .- e-., Saqulain, G., & Mumtaz, N. (2021). HEARING HANDICAP IN OLDER ADULTS: A MULTI-CENTER STUDY. Pakistan Armed Forces Medical Journal, 71(Suppl-3), S590–93. https://doi.org/10.51253/pafmj.v1i1.3137
Section
Original Articles