CLINICAL SPECTRUM AND OUTCOME OF PATIENTS WITH TUBERCULOUS MENINGITIS AT A TERTIARY CARE HOSPITAL OF PAKISTAN
Atifa Gilani

Pak Emirates Military Hospital/National University of Medical Sciences (NUMS) Rawalpindi Pakistan

Zahid Hassan

Pak Emirates Military Hospital/National University of Medical Sciences (NUMS) Rawalpindi Pakistan

Khurram Haq Nawaz

Pak Emirates Military Hospital/National University of Medical Sciences (NUMS) Rawalpindi Pakistan

Muhammad Babar Khan

Combined Military Hospital Lahore/National University of Medical Sciences (NUMS) Pakistan

Saeed Arif

Pak Emirates Military Hospital/National University of Medical Sciences (NUMS) Rawalpindi Pakistan

Sakhawat Kazmi

Pak Emirates Military Hospital/National University of Medical Sciences (NUMS) Rawalpindi Pakistan
Keywords:
Neurology, Outcome, Tuberculous meningitis
Abstract
Objective: To assess the clinical profile and outcome of patients admitted with the diagnosis of tuberculous meningitis (TBM) at neurology unit of a tertiary care teaching hospital of Pakistan.
Study Design: Cross-sectional study.
Place and Duration of Study: Neurology department, Pak Emirates Military Hospital Rawalpindi, from Dec 2018 to Jun 2019.
Methodology: This study was conducted on 69 patients of tuberculous meningitis admitted. Demographic profile included age, gender, and the symptoms with which the patient presented. Neurological complications were also documented among the target population. Outcomes included recovery, shifting to intensive care unit and death.
Results: A total of 69 patients admitted in neurology ward diagnosed and managed as tuberculous meningitis in the study duration time. Male to female ratio was 1.4:1. Mean age of patients diagnosed with tuberculous meningitis in our study was 34.23 ± 3.915 years. Most of the patients presented with the fever followed by headache. Out of 69 patients, 41 (59.4%) recovered, 22 (31.9%) were shifted to the intensive care unit and 6 (8.7%) died. Seizures were the commonest neurological complication faced by the patients followed by cranial nerve palsies.
Conclusion: Fever and headache were common symptoms with which patients of tuberculous meningitis presented in our study population. Most of the patients recovered in the ward but a high percentage required intensive care unit admission as well. Seizures and cranial nerve palsies were commonly experienced complication by patients included in our study.
Downloads
Download data is not yet available.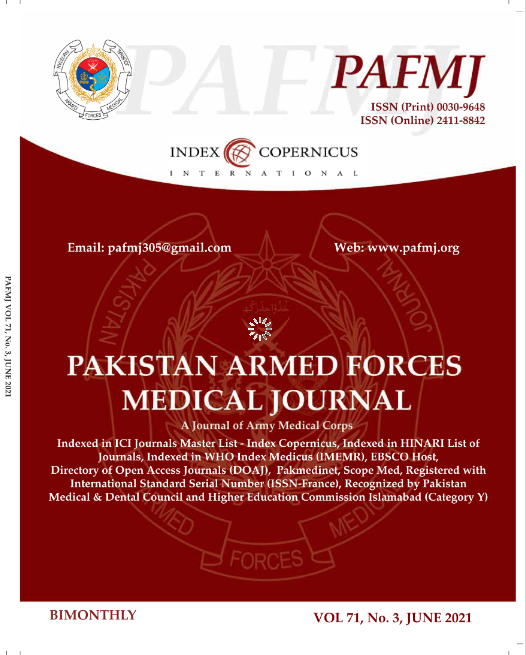 How to Cite
Gilani, A., Hassan, Z., Nawaz, K., Khan, M., Arif, S., & Kazmi, S. (2021). CLINICAL SPECTRUM AND OUTCOME OF PATIENTS WITH TUBERCULOUS MENINGITIS AT A TERTIARY CARE HOSPITAL OF PAKISTAN. Pakistan Armed Forces Medical Journal, 71(3), 771-74. https://doi.org/10.51253/pafmj.v71i3.3126
Section
Original Articles