FREQUENCY OF REFRACTIVE ERROR AND AMBLYOPIA IN STRABISMUS IN PEDIATRIC AGE GROUP
Noureen Malik

Armed Forces Institute of Ophthalmology/National University of Medical Sciences (NUMS) Rawalpindi Pakistan

Hannan Masud

Armed Forces Institute of Ophthalmology/National University of Medical Sciences (NUMS) Rawalpindi Pakistan

Imran Basit

Armed Forces Institute of Ophthalmology/National University of Medical Sciences (NUMS) Rawalpindi Pakistan

Palwasha Noor

Armed Forces Institute of Ophthalmology/National University of Medical Sciences (NUMS) Rawalpindi Pakistan
Keywords:
amblyopia, refractive errors, strabismus
Abstract
Objective: To see the frequency and compare the type of refractive error and strabismus in amblyopic versus non amblyopic children.
Study Design: Comparative cross sectional study.
Place and Duration of Study: Armed Forces Institute of Ophthalmology, Rawalpindi, from Jan to Jul 2019.
Methodology: The sample population comprised of 250 patients of new or previously diagnosed children with refractive error and strabismus presenting at children eye outdoor patient department of armed forces institute of ophthalmology. Strabismus was diagnosed by the consultant eye specialist on the basis of heterotropia at near or distance fixation. Amblyopia and refracttive error was assessed by a trained optometrist. Patients were classified into amblyopia and non- amblyopia groups. The type of squint and refractive error was noted down along with demographic details. Chi square test was used to assess the
significance of association between various categorical variables.
Results: A total of 250 participants were included with a mean age of 5.00 ± 1.07 years. Out of total, 132 (52.8%) were males while 118 (47.2%) were females. One hundred and fifty (59.5%) patients were suffering from amblyopia while 100 (39.5%) patients were normal with comparable vision in both the eyes. Out of 150 amblyopic patients 134 (89.3%) were suffering from unilateral amblyopia while 16 (10.6%) patients had amblyopia in both the eyes. Out of refractive errors astigmatism was present in 83 (55.3 %) of amblyopia patients while hypermetropia was present in 54 (36%) of the patients. Out of total patients of strabismus, 95 (63.3%) of non-alternating esotropic patients..........
Downloads
Download data is not yet available.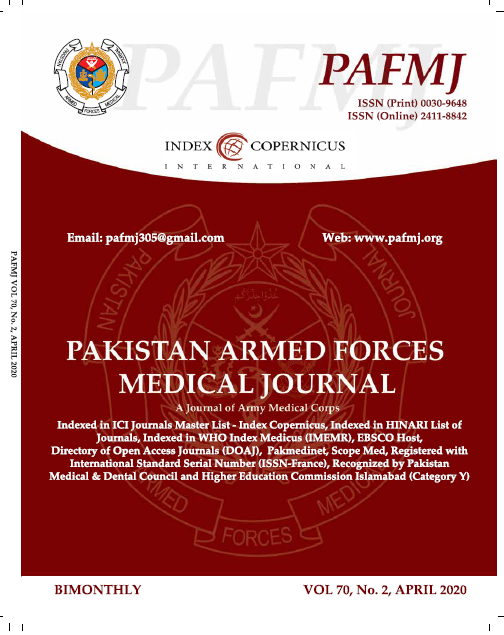 How to Cite
Malik, N., Masud, H., Basit, I., & Noor, P. (2021). FREQUENCY OF REFRACTIVE ERROR AND AMBLYOPIA IN STRABISMUS IN PEDIATRIC AGE GROUP. Pakistan Armed Forces Medical Journal, 71(2), 405-08. https://doi.org/10.51253/pafmj.v71i2.3109
Section
Original Articles