PURE NEURAL LEPROSY, A DIAGNOSIS NOT TO MISS IN PATIENTS PRESENTING WITH POLYNEUROPATHY
Imran Ahmad

Pakistan Naval Ship Shifa Hospital Karachi Pakistan

Mutaher Zia

Marie Adelaide Leprosy Centre (MALC) Karachi Pakistan

Muhammad Irfan Anwar

Pakistan Naval Ship Shifa Hospital Karachi Pakistan
Keywords:
Leprosy, Neuritic leprosy, Nerve biopsy, Peripheral neuropathy
Abstract
Leprosy is a chronic infectious disease, caused by Mycobacterium leprae. It mainly affects the peripheral nerves and skin. In pure neural or neuritic leprosy, there are no skin lesions. Hence the diagnosis is delayed, leading to deformities. It is more common in India as compared to other countries, including Pakistan. We are reporting two cases who presented with pure neural leprosy. Their diagnosis was delayed for several months, until a nerve biopsy showed typical changes of leprosy. Due to the delay in diagnosis, both developed visible deformities (grade 2 disabilities). These two cases emphasize the importance of early recognition of this type of leprosy; so as to prevent permanent crippling disabilities.
Downloads
Download data is not yet available.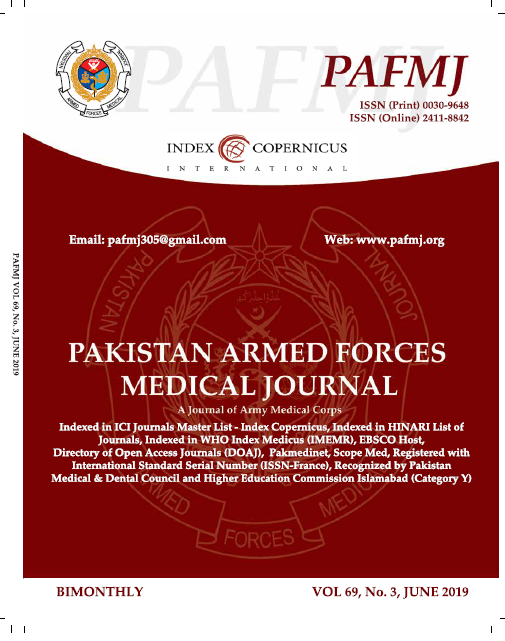 How to Cite
Ahmad, I., Zia, M., & Anwar, M. (2019). PURE NEURAL LEPROSY, A DIAGNOSIS NOT TO MISS IN PATIENTS PRESENTING WITH POLYNEUROPATHY. Pakistan Armed Forces Medical Journal (PAFMJ), 69(3), 721-25. Retrieved from https://pafmj.org/index.php/PAFMJ/article/view/3062