KIKUCHI FUJIMOTO DISEASE, A GREAT IMITATOR: A CASE REPORT OF A 14 YEAR OLD FEMALE PRESENTING WITH FEVER AND LYMPHADENOPATHY
Nabeela Iqbal

Sandeman Provincial Hospital (SPH) Quetta Pakistan

Shazia Yousaf

Sandeman Provincial Hospital (SPH) Quetta Pakistan

Syed Khalid Shah

Sandeman Provincial Hospital (SPH) Quetta Pakistan
Keywords:
Histiocytic necrotizing lymphadenitis, Kikuchifujimoto disease, Lymphoproliferative disorders
Abstract
Kikuchi Fujimoto disease (KFD) is a rare disease of unknown aetiology, with higher prevalence amongst Japanese and east Asian population. It is a benign disease, runs in a limited course, characterized by necrotizing histiocytic lymphadenitis mostly affecting young women. KFD clinically presents with enlarged lymph nodes plus fever. Cervical lymph nodes are commonly affected but rare cases of generalized lymphadenopathy and involvement of retroperitoneal lymph nodes have been noticed too. Its recognition is significant as it can be mistaken for immunological, infective and even lymph-proliferative disorders like lymphomas thus preventing the patients from being subjected to costly diagnostic work up and treatment. Once a true diagnosis has been made the treatment of the disease mainly comprises of supportive measures. This is different from the management of other conditions which may be confused with it i.e. lymphoma, tuberculosis.


Downloads
Download data is not yet available.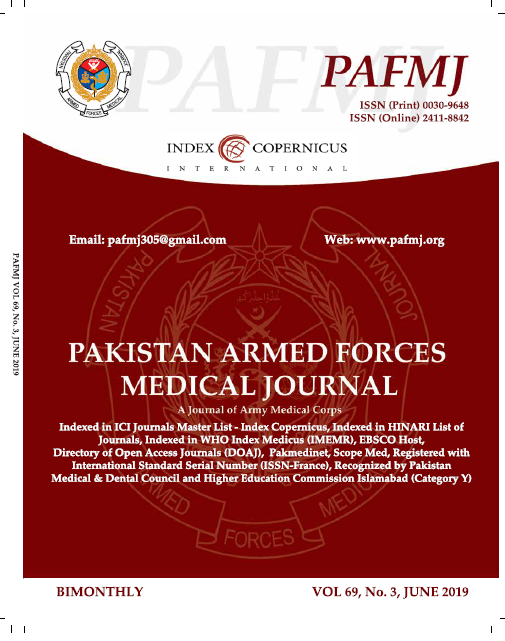 How to Cite
Iqbal, N., Yousaf, S., & Shah, S. (2019). KIKUCHI FUJIMOTO DISEASE, A GREAT IMITATOR: A CASE REPORT OF A 14 YEAR OLD FEMALE PRESENTING WITH FEVER AND LYMPHADENOPATHY. Pakistan Armed Forces Medical Journal (PAFMJ), 69(3), 718-20. Retrieved from https://pafmj.org/index.php/PAFMJ/article/view/3061