EXTRUSION FROM URETHRAL MEATUS AND MASSIVE PLEURAL EFFUSION - RARE COMPLICATIONS OF VENTRICULOPERITONEAL SHUNT
Keywords:
Hydrocephalus, Urethral meatus, Ventriculoperitoneal shunt
Abstract
Hydrocephalus is a very common presentation especially in paediatric population that can be multifactorial like infections, genetic disorders or spina bifida leading to increased intracranial pressure. In order to decrease this pressure, ventriculoperitoneal (VP) shunt is a very commonly performed neurosurgical procedure. This procedure is associated with many complications like infection, blockage, over/under drainage or CSF pseudocyst formation but we report a patient who presented with extrusion of VP shunt from the urethral meatus which is a very rare complication of this procedure. Later on the same patient presented with migration of VP shunt in left hemithorax causing massive pleural effusion.


Downloads
Download data is not yet available.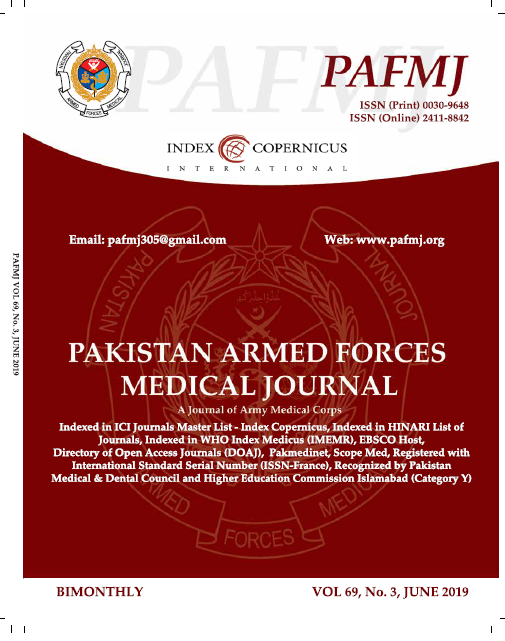 Downloads
How to Cite
Ahmed, N., Ahmed, I., Safdar, C. A., Zaidi, H., & Awan, S. H. (2019). EXTRUSION FROM URETHRAL MEATUS AND MASSIVE PLEURAL EFFUSION - RARE COMPLICATIONS OF VENTRICULOPERITONEAL SHUNT. Pakistan Armed Forces Medical Journal, 69(3), 715–17. Retrieved from https://pafmj.org/index.php/PAFMJ/article/view/3060