FREQUENCY OF VITAMIN D DEFICIENCY AMONG PATIENTS ATTENDING IN OUTPATIENT DEPARTMENT IN A TERTIARY CARE HOSPITAL IN LAHORE
Muhammad Nabeel Shafqat

Shaikh Zayed Hospital Lahore Pakistan

Miqdad Haider

Fatima Memorial Hospital Lahore Pakistan

Aijaz Zeeshan Khan Chachar

Fatima Memorial Hospital Lahore Pakistan
Keywords:
Bone health, Vitamin D, Vitamin D Deficiency, 25-hydroxy vitamin D
Abstract
Objective: To determine the prevalence of Vitamin D deficiency among individuals attending in Fatima Memorial nHospital Lahore.
Study Design: Cross sectional study.
Place and Duration of Study: This study was conducted at Medicine outpatient department of Fatima Memorial Hospital Lahore, from May 2017 to Aug 2017.
Material and Methods: A total of 460 individual participated in the study. All patients who attended the Medical Outpatient Department (OPD), above 20 years of age, well oriented and voluntarily agreeing to participate in the study were included. Patients who had any risk factor which could alter vitamin D levels were excluded from the study. Informed consent was taken before enrollment. All data were analyzed by using SPSS version 23.0
Results: A total of 460 people were included in the study out of which 101 (21.9%) were males and 359 (78.04%) were females. The mean age was 42.7 years with a range of 20 to 80 years of age. Median (range) of vitamin D in males was 23 (7.0-99) ng/ml while in females was 16 (1.3-107) ng/ml. Prevalence of vitamin D deficiency according to its severity was: mild deficiency: 22.6%, moderate deficiency: 24.8% and severe deficiency: 25.3%.
Conclusion: Vitamin D deficiency is more prevalent among young age group and in women among all groups. Vitamin D deficiency is a common problem in our society. Proper and timely diagnosis and treatment can help in prevention of several diseases and can lead to better bone health.
Downloads
Download data is not yet available.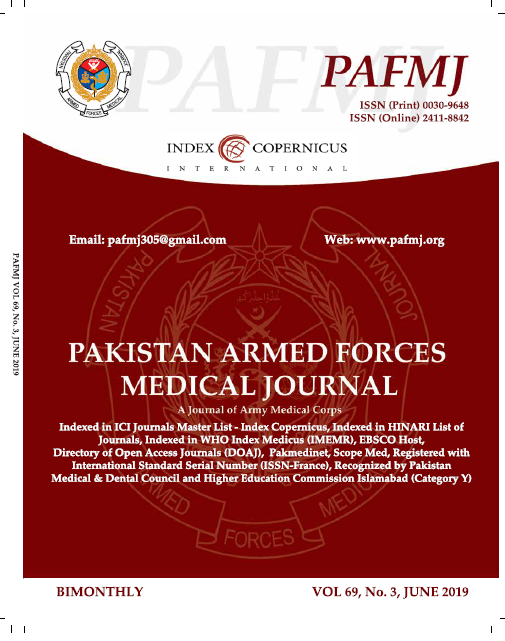 How to Cite
Shafqat, M., Haider, M., & Chachar, A. Z. (2019). FREQUENCY OF VITAMIN D DEFICIENCY AMONG PATIENTS ATTENDING IN OUTPATIENT DEPARTMENT IN A TERTIARY CARE HOSPITAL IN LAHORE. Pakistan Armed Forces Medical Journal (PAFMJ), 69(3), 681-84. Retrieved from https://pafmj.org/index.php/PAFMJ/article/view/3054
Section
Original Articles