ASSOCIATION OF DEMOGRAPHIC CHARACTERISTICS AND STUDY HABITS TO MEDICAL STUDENTS' ACADEMIC PERFORMANCE; A CASE CONTROL STUDY
Faiza Kiran

Army Medical College/National University of Medical Sciences (NUMS) Rawalpindi Pakistan

Memoona Mansoor

Islamabad Medical and Dental College Islamabad Paksitan

Shazia Irum

Shifa College of Medicine Islamabad Pakistan
Keywords:
Academic performance, Case control study, Demographic characteristics, Medical students, Study habits
Abstract
Objective: Identify the association of demographic risk factors and study habits to academic performance of medical students.
Study Design: Non interventional case control study.
Place and Duration of Study: Shifa college of Medicine, from year 2015 to 2017.
Material and Methods: A structured questionnaire was developed after thorough literature search and focus group discussion with few students who were low achievers. Students, who obtained less than 50% marks in professional examination, were labelled as cases whereas all those who passed, gave consent and filled the questionnaire were labelled as controls. Ratio of cases to controls obtained was 1:2. Data was analyzed using IBM SPSS statistics version 23. Chi square test was applied to obtain value of significance (p-value ≤0.05) and Odds ratio was calculated to observe relative risk of underperformance.
Results: It is evident that 21-23 year age group (0.05), male gender (0.002, RR is 2.44), second year (0.00) is associated with highest risk of failing whereas premedical mode of exam (0.06), boarding (RR 1.6) and nationality (RR 0.4) were found to have lower risk of affecting students' performance. Studying daily (0.003) for more than 2 hours (0.08) and making own notes (0.015) is associated with good academic performance while last hour attempt at exam (0.001) and selective study (0.021) are associated with poor performance. Most of the failed students (0.05) do reflect on changing their study schedule and style.
Conclusion: Our study concludes that certain demographic characteristics and study habits of medical students have strong association with their academic performance. Few factors can be dealt with, by medical college administration and faculty, by adjusting admission criteria (e.g. age and preadmission calibre) and making positive changes in curriculum (e.g. modifying modules of second year). However, to change the course of their
losing, students need to study regularly, in depth and that too, for increased number of hours. They should avoid superficial, last hour, half hearted attempts at exams and strive to get good grades by meaningful and deep learning.
Downloads
Download data is not yet available.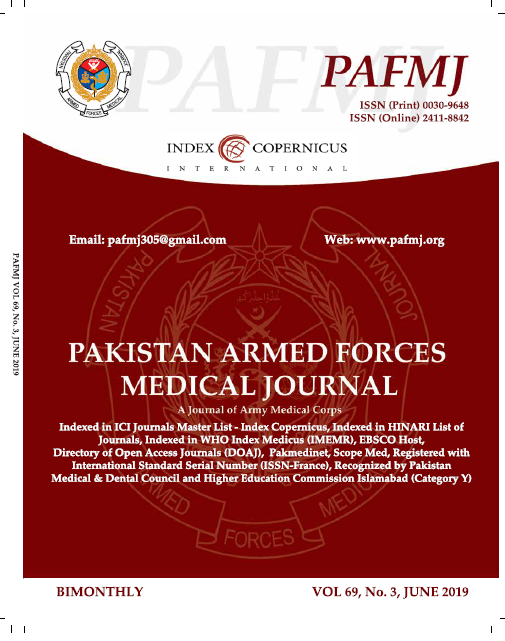 How to Cite
Kiran, F., Mansoor, M., & Irum, S. (2019). ASSOCIATION OF DEMOGRAPHIC CHARACTERISTICS AND STUDY HABITS TO MEDICAL STUDENTS' ACADEMIC PERFORMANCE; A CASE CONTROL STUDY. PAFMJ, 69(3), 654-59. Retrieved from https://pafmj.org/index.php/PAFMJ/article/view/3049
Section
Original Articles