FREQUENCIES OF VARIOUS FACTORS CAUSING EARLY SIGN OFF AND NO SHOWS DURING DIALYSIS
Keywords:
Compliance, Complications, Dialysis, Dialysis adequacy, Hemodynamic instability
Abstract
Objective: To determine various factors associated with poor dialysis compliance as evident by early signoff and no shows.
Study Design: Descriptive study.
Place and Duration of Study: Nephrology department at Pak Emirates Military Hospital Rawalpindi, from Feb 2012 to Jan 2013.
Material and Methods: A standardized proforma was formulated which was to be filled by dialysis staff each time a patient refused dialysis, absented "No show" or had premature termination of dialysis session against the medical advice, "early sign off" due to any cause. This data was compiled centrally on monthly basis and patients were counseled by doctors to evaluate the cause and various factors for early sign off and no shows. Using Non probability convenience sampling 364 dialysis sessions were included in our study. Data was analysed using SPSS version 20 and frequencies were calculated for various factors associated with early termination or absence altogether from dialysis.
Results: A total of 11232 dialysis sessions were followed during study period. Amongst total of 364, 320 (88%) dialysis were terminated prematurely (Early sign off) while 44 (12%) dialysis sessions were missed out  completely (no shows). Febrile reaction was most frequent factor causing early sign off n=97 (27%). Cramps were second most common factor for early sign offs n=70 (19%). Other factors like Symptomatic arrhythmias, nonspecific body aches, AV access site pain and socio economic issues also had contributions but less than 10% each.
Conclusion: Poor hemodialysis compliance indicated by early sign offs and no show is fairly common problem in our community. Febrile reactions, cramps, poor education and hemodynamic instability are major contributory factors. These issues need to be addressed urgently to save a large population from life threatening complications and poor dialysis compliance. Identifying these complications and addressing them can ensure better compliance and likely will contribute to long term survival benefit.
Downloads
Download data is not yet available.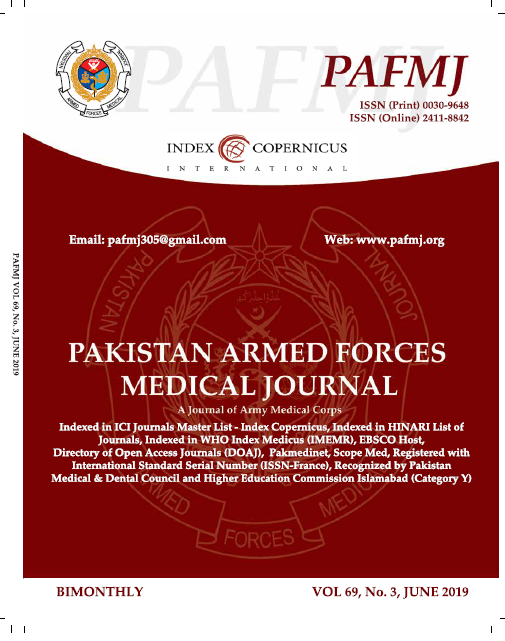 Downloads
How to Cite
Khattak, M. I., Abrar, S., Khan, G., Khattak, S. N., Abbas, M., & Islam, F. (2019). FREQUENCIES OF VARIOUS FACTORS CAUSING EARLY SIGN OFF AND NO SHOWS DURING DIALYSIS. Pakistan Armed Forces Medical Journal, 69(3), 648–53. Retrieved from https://pafmj.org/index.php/PAFMJ/article/view/3048
Section
Original Articles