DIAGNOSTIC ACCURACY OF CONTRAST ENHANCED COMPUTED TOMOGRAPHY IN DIAGNOSING RENAL CELL CARCINOMA, TAKING HISTOPATHOLOGY AS GOLD STANDARD
Ayesha Munir

Pakistan Institute of Medical Sciences Islamabad Pakistan

Shahla Zameer

Pakistan Institute of Medical Sciences Islamabad Pakistan

Umairah Kalim

Islamabad Diagnostic Centre Islamabad Pakistan
Keywords:
Computed tomography, Renal cell carcinoma, Sensitivity
Abstract
Objective: To determine the diagnostic accuracy of contrast enhanced computed tomography (CECT) scan in detecting renal cell carcinoma taking histopathology as gold standard.
Study Design: Validity Study.
Place and Duration of Study: Study was conducted in Department of Radiology, Pakistan Institute of Medical Sciences, and Islamabad, from Aug 2017 to Mar 2018.
Material and Methods: The study was done on 60 patients with renal masses on ultrasonography. Pregnant females and patients not willing for surgery were excluded. All the subjects underwent pre-contrast and contrastenhanced CT scanning of the abdomen using a multi-sectional spiral CT device. All CT scan findings were interpreted by one consultant radiologist for presence or absence of renal cell carcinoma. CT scan findings were
correlated with histopathological findings. Data was analyzed with SPSS v 20.
Results: Mean age at the time of presentation was 56.79 ± 9.25 years. Out of these 60 patients, 41 (68.33%) were males and 19 (31.67%) were females with male to female ratio of 2.2:1. In CT scan positive patients, 34 were true positive and 2 were false positive. Among CT scan negative patients, 4 were false negative (FN) where as 20 were true negative (TN) (p=0.0001). Overall sensitivity, specificity, positive predictive value (PPV), negative predictive value (NPV) and diagnostic accuracy of contrast enhanced computed tomography (CT) in detecting renal cell carcinoma patients was 89.47%, 90.91%, 94.44%, 83.33% and 90.0% respectively.
Conclusion: This study concluded that CECT scan is a highly sensitive and accurate non-invasive modality for detecting renal cell carcinoma.
Downloads
Download data is not yet available.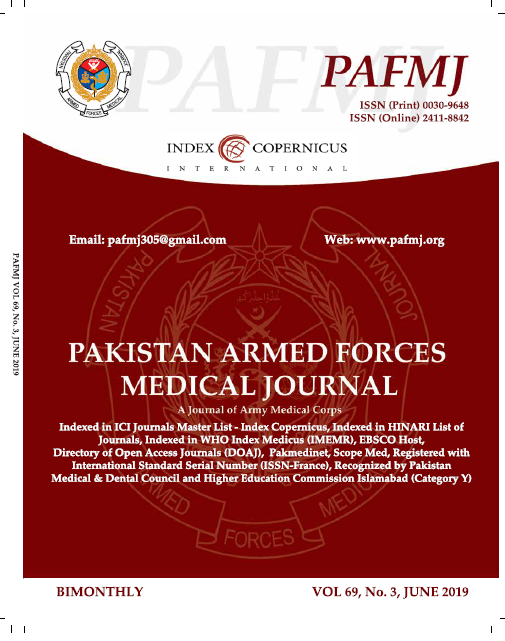 How to Cite
Munir, A., Zameer, S., & Kalim, U. (2019). DIAGNOSTIC ACCURACY OF CONTRAST ENHANCED COMPUTED TOMOGRAPHY IN DIAGNOSING RENAL CELL CARCINOMA, TAKING HISTOPATHOLOGY AS GOLD STANDARD. Pakistan Armed Forces Medical Journal (PAFMJ), 69(3), 644-47. Retrieved from https://pafmj.org/index.php/PAFMJ/article/view/3047
Section
Original Articles