DIABETIC RETINOPATHY IN PATIENTS WITH CHRONIC KIDNEY DISEASE
Lubna Siddiq Mian

Lahore General Hospital, Lahore Pakistan

Muhammad Moin

Lahore General Hospital, Lahore Pakistan

Aurangzeb Afzal

Lahore General Hospital, Lahore Pakistan
Keywords:
Chronic kidney disease, Diabetic Retinopathy, Fundus Photographs, Proliferative diabetic retinopathy
Abstract
Objective: To study and compare the association between the grade of chronic kidney disease (CKD) and a set of parameters including: the stage of diabetic retinopathy (DR), random blood sugar level, insulin versus oral hypoglycemics use, and the history of receiving some ocular treatment for coexisting DR.
Study Design: Cross sectional study.
Place and Duration of Study: Lahore General Hospital, Lahore, form Sep 2016 to Jun 2017.
Material and Methods: Our study included 100 patients diagnosed to have chronic kidney disease (CKD) due to diabetic nephropathy, these patients had fundus photographs, blood sugar random (BSR) check, and inquired about the nature of hypoglycemics used and about the history of receiving treatment for co-existing diabetic retinopathy. The fundus photographs were evaluated for the presence and the grade of diabetic retinopathy. The association between the grade of CKD and these four parameters was compared.
Results: The mean age of our patients is 54.55 ± SD 11.647, 40% are male and 60% are female, 68% of the patients had any diabetic retinopathy, and 22% had severe disease including proliferative diabetic retinopathy (PDR) and advanced diabetic eye disease. Forty six percent had non-proliferative diabetic retinopathy (NPDR), 28% of the patients had random blood sugar levels less than 200 mg/dl and 72% had higher levels making poor glycemic control common among the participants. The stage of retinopathy advanced in accordance with the stage of CKD but could not reach a statistical significance (p=0.134).
Conclusion: Patients with chronic kidney disease due to diabetes mellitus are at risk for diabetic retinopathy and need regular fundus examination and timely treatment to prevent blindness and visual impairment.
Downloads
Download data is not yet available.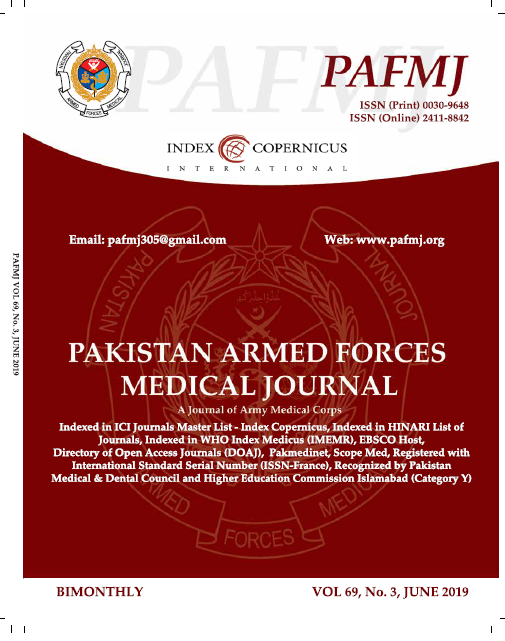 How to Cite
Mian, L., Moin, M., & Afzal, A. (2019). DIABETIC RETINOPATHY IN PATIENTS WITH CHRONIC KIDNEY DISEASE. Pakistan Armed Forces Medical Journal (PAFMJ), 69(3), 625-30. Retrieved from https://pafmj.org/index.php/PAFMJ/article/view/3042
Section
Original Articles