ASSOCIATION OF HYGIENE PRACTICES AND DIARRHEA PREVALENCE IN CHILDREN: A COMPARATIVE STUDY AMONG CHILDREN OF EDUCATED AND UNEDUCATED MOTHERS
Ayesha Ehsan

Combined Military Hospital Attock Pakistan

Shazia Saeed

Pak Emirates Military Hospital/National University of Medical Sciences (NUMS) Rawalpindi Pakistan

Fatima Ehsan

Riphah International University Islamabad Pakistan
Keywords:
Children two to five years of age, Diarrheal disease, Hygiene practices, Maternal education
Abstract
Objective: To investigate the association between the incidence of acute diarrhea in children and the hygiene practices of mothers residing in Peshawar along with the comparison of association of educated and uneducated mothers.
Study Design: A case-control study.
Place and Duration of Study: Combined Military Hospital (CMH), Peshawar, from Jul 2014 to Dec 2014.
Material and Methods: Data was analyzed on 363 children, aged 2 to 5 years, out of which 121 were cases with diarrhea and 242 were healthy controls. Structured questionnaire was given to mothers. SPSS version 22 was used. To compare the association of hygiene practices with acute diarrhea, chi square test at 5% level of significance was applied. A p-value<0.05 was considered as statistically significant. Stratified chi square test was applied to compare the association of various risk factors with acute diarrhea among educated and uneducated
mothers.
Results: The risk of diarrhea was significantly higher in children whose mothers were poorer in hygiene practices (p<0.01). Surprisingly, it was also observed that mothers using water from filter were more prone to develop diarrhea and other diseases (64.3%). When lavatory system, water sources, bottle washing techniques were compared in uneducated groups (p=0.48, p=0.32, p=0.32) and educated group, there was significant difference of association in educated group only (p<0.01). However, regarding the hand washing habits of children as well as mothers of children with acute diarrhea, no difference of association was observed educated and uneducated groups (p<0.01).
Conclusion: Lack of hygiene practices among mothers especially the uneducated group is a major risk factor for diarrhea in children among CMH Peshawar. Health awareness programs and developing resources for improved sanitation are the main methods to reduce this burden.
Downloads
Download data is not yet available.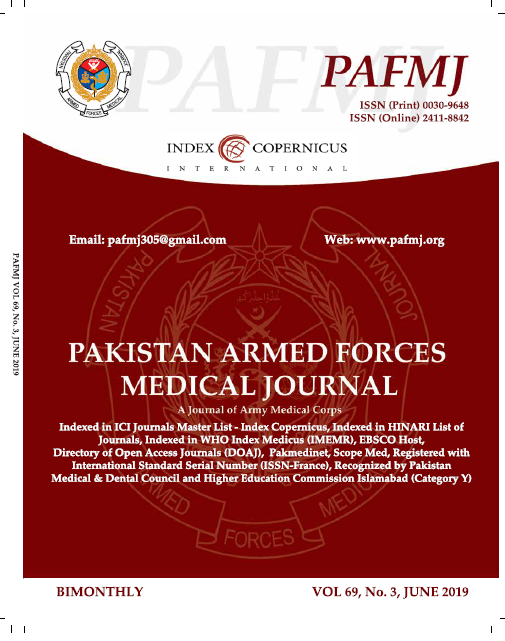 How to Cite
Ehsan, A., Saeed, S., & Ehsan, F. (2019). ASSOCIATION OF HYGIENE PRACTICES AND DIARRHEA PREVALENCE IN CHILDREN: A COMPARATIVE STUDY AMONG CHILDREN OF EDUCATED AND UNEDUCATED MOTHERS. Pakistan Armed Forces Medical Journal (PAFMJ), 69(3), 617-24. Retrieved from https://pafmj.org/index.php/PAFMJ/article/view/3041
Section
Original Articles