STUDY OF EPIDEMIOLOGICAL AND CLINICAL PROFILE OF CHILDHOOD GUILLAIN-BARRE SYNDROME AT THE CHILDREN'S HOSPITAL, LAHORE
Faisal Zafar

Children's Hospital and Institute of Child Health, Lahore Pakistan

Ahmad Omair Virk

Children's Hospital and Institute of Child Health, Lahore Pakistan

Tipu Sultan

Children's Hospital and Institute of Child Health, Lahore Pakistan

Zia Ur Rehman

Children's Hospital and Institute of Child Health, Lahore Pakistan

Aadarsh Naz

Children's Hospital and Institute of Child Health, Lahore Pakistan
Keywords:
Antecedent illness, Guillain-Barre syndrome, Polyradiculoneuropathy
Abstract
Objective: To ascertain the demographic profile, diversity of clinical aspects of Guillain-Barre Syndrome (GBS) along with its prognosis.
Study Design: Cross sectional study.
Place and Duration of Study: Department of Pediatric Neurology, The Children's Hospital Lahore, from Jul 2015 to Dec 2016.
Material and Methods: One hundred and twenty five patients of both genders from the age of 1 to 15 years, fulfilling the inclusion criteria were included in the study. The clinical data were entered into proforma.
Results: Out of the total, 77 (61.6%) were males and 48 (38.4%) were females. History of preceding illness was recorded in 57.6% of the patients and Upper Respiratory Tract Infection (URTI) 31.2% was the most common. 54.4% of the patients had cranial nerve paralysis. Upon electro diagnostic studies including electromyography (EMG) and nerve conduction studies (NCS) and clinical examination, there were 49 patients with acute
inflammatory demyelinating polyradiculoneuropathy variant (AIDP), 67 had acute motor axonal neuropathy variant (AMAN), 6 patients having mixed and 3 patients with Miller Fischer syndrome (MFS). Treatment with intravenous immunoglobulins (IVIG) was given keeping in mind the indication. At 6 months follow up visit 89.6% of the patients had good outcome while 10.4% patients had poor outcome.
Conclusion: The results of our study show that GBS is a disease with diverse clinical presentation. With the help of diagnostic facilities like EMG/NCS, well-equipped treatment and IVIG clinical outcome is good.
Downloads
Download data is not yet available.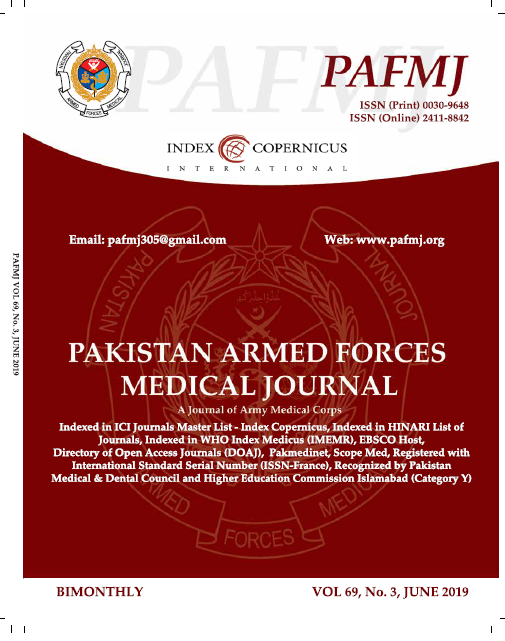 How to Cite
Zafar, F., Virk, A., Sultan, T., Rehman, Z., & Naz, A. (2019). STUDY OF EPIDEMIOLOGICAL AND CLINICAL PROFILE OF CHILDHOOD GUILLAIN-BARRE SYNDROME AT THE CHILDREN'S HOSPITAL, LAHORE. Pakistan Armed Forces Medical Journal (PAFMJ), 69(3), 611-16. Retrieved from https://pafmj.org/index.php/PAFMJ/article/view/3040
Section
Original Articles