DIAGNOSTIC UTILITY OF SATB2 IN METASTATIC COLORECTAL CARCINOMA
Keywords:
CDX2, CK7, CK20, , mCRC, SATB2
Abstract
Objective: The purpose of this study was to evaluate the diagnostic utility of SATB2 in detecting CRC origin for patients presenting with metastatic carcinomas.
Study Design: Cross sectional, comparative study.
Place and Duration of Study: Study was conducted at department of Histopathology, Armed Forces Institute of Pathology, Rawalpindi from January 2019 to June 2019.
Materials and Methods: Already diagnosed 68 cases of metastatic carcinoma of various origins with unknown primary were retrieved from tumour registry. Paraffin embedded blocks were taken and a panel of Immunohistochemistry was applied which includes CK7, CK20,CDX2 and SATB2. Positivity of SATB2 alone, and  combination of SATB2 with CK 7,CK20 and CDX2 was evaluated.
Results: Out of 68 metastatic adenocarcinoma cases 28(41%) had positive SATB2 expression and 38 (56%) were negative. All the positive SATB2 cases had 100 % (28/28) expression with CDX2, 93% (26/28) of the cases had expression with CK20 and 21% (6/28) of the cases showed expression of CK7. The sensitivity of SATB2 alone was 100% in metastatic colorectal carcinoma as compared to CK20 and CDX2. The sensitivity of SATB2 in combination with CDX2 (100%) and CK20 (93%)in comparison to the double combination of CK20 and CDX2(93 %). The sensitivity of SATB2 and CK20 combination was 93%, which was equal to CK20 and CDX2 combination.
Conclusions: Our results show that SATB2 is a sensitive marker in the IHC panel for cases with suspected metastasis from colorectal region.
Downloads
Download data is not yet available.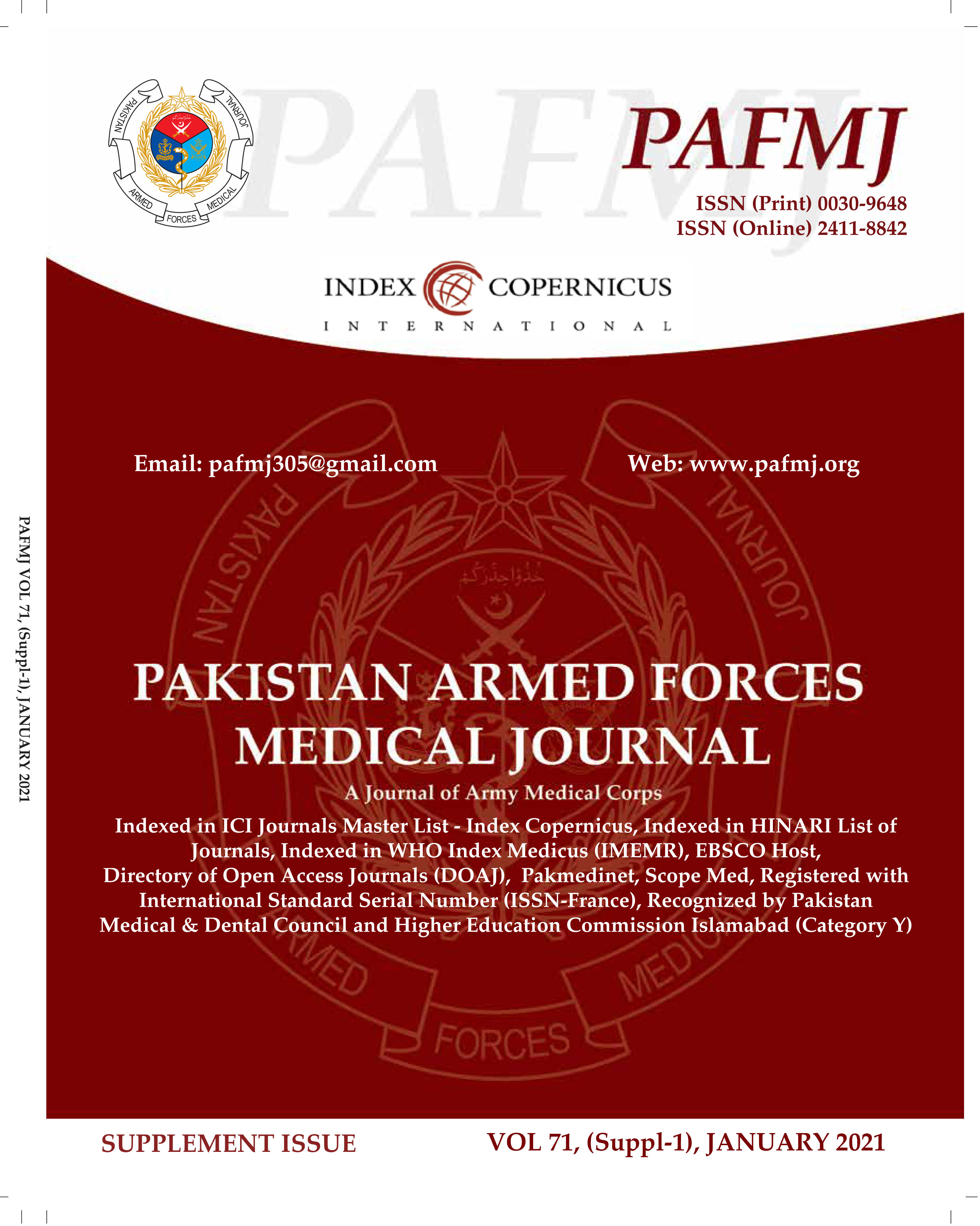 Downloads
How to Cite
Salim, S., Asif, M., Ahmed, R., Din, H. U., Khadim, M. T., & Sadaf, G. (2021). DIAGNOSTIC UTILITY OF SATB2 IN METASTATIC COLORECTAL CARCINOMA. Pakistan Armed Forces Medical Journal, 71(Suppl-1), S32–36. https://doi.org/10.51253/pafmj.v71iSuppl-1.3034
Section
Original Articles