ROLE OF TRANSOCULAR ULTRASOUND IN IDENTIFYING RAISED INTRACRANIAL PRESSURE AND PREDICTING INTRACRANIAL BLEED IN TRAUMATIC BRAIN INJURIES
Muhammad Asim Ghauri

Combined Military Hospital/National University of Medical Sciences (NUMS) Rawalpindi Pakistan

Ahmed Mujadid Khan Burqi

Combined Military Hospital/National University of Medical Sciences (NUMS) Rawalpindi Pakistan

Anum Sultan

Combined Military Hospital/National University of Medical Sciences (NUMS) Rawalpindi Pakistan

Hassan Masood

Combined Military Hospital/National University of Medical Sciences (NUMS) Rawalpindi Pakistan

Hassan Masood

Combined Military Hospital/National University of Medical Sciences (NUMS) Rawalpindi Pakistan

Muhammad Umer Hayyat

Combined Military Hospital/National University of Medical Sciences (NUMS) Rawalpindi Pakistan

Muhammad Awais Qarni

Combined Military Hospital/National University of Medical Sciences (NUMS) Rawalpindi Pakistan
Keywords:
Intracranial bleed, Intracranial pressure, Optic nerve sheath diameter, Transocular ultrasound
Abstract
Objective: To know the efficacy of transocular ultrasound (TOU) in identification of elevated intracranial pressure (eICP) and early prediction of intracranial bleed in traumatic brain injuries (TBI).
Study Design: Descriptive study.
Place and Duration of Study: Department of Anaesthesiology and Critical Care Combined Military Hospital Rawalpindi, from Jan 2017 to Dec 2017.
Subjects and Methods: This study was conducted after approval from the ethical committee. Total 60 patientswith traumatic brain injuries having Glasgow Coma Scale <9, 20-60 years of age and previous no history of head and facial trauma, were included in this study by non-probability purposive sampling. The patients were assessed systematically and their optic nerve sheath diameter (ONSD) was measured through transocular
ultrasonograhy. The examination was performed over a closed eyelid in the supine position with head of bed elevated 30°. The optic nerve sheath diameter was measured 3mm posterior to the optic disk in two orthogonal planes with the probe held perpendicular to the coronal plane of the globe. Optic nerve sheath diameter of >0.5cm was taken as an elevated intracranial pressure and a predictor of CT findings of sub arachnoid
hemorrhage, subdural hematoma, extradural hematoma and cerebral edema.
Results: Mean OND of right and left eye were 0.5895 ± 0.059 cm and 0.5735 ± 0.078 cm respectively in patients of traumatic brain injury. The results are significant as OND was >0.5cm and showed increased intracranial pressures in patients with traumatic brain injuries.
Conclusion: Use of transocular ultrasonography can detect elevated intracranial pressures quiet early. It is a noninvasive procedure, and can easily be inducted in early surveillance of traumatic brain injuries to reduce morbidity and mortality.
Downloads
Download data is not yet available.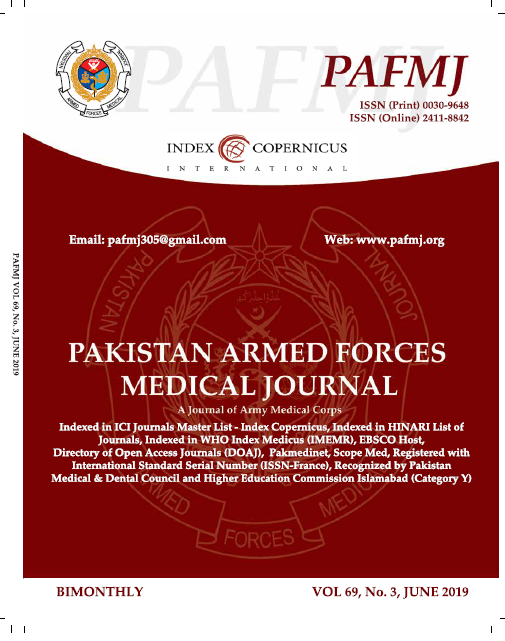 How to Cite
Ghauri, M., Burqi, A. M., Sultan, A., Masood, H., Masood, H., Hayyat, M., & Qarni, M. (2019). ROLE OF TRANSOCULAR ULTRASOUND IN IDENTIFYING RAISED INTRACRANIAL PRESSURE AND PREDICTING INTRACRANIAL BLEED IN TRAUMATIC BRAIN INJURIES. Pakistan Armed Forces Medical Journal (PAFMJ), 69(3), 589-94. Retrieved from https://pafmj.org/index.php/PAFMJ/article/view/3032
Section
Original Articles