IMPACT OF AN INNOVATIVE APPROACH OF TEACHING SCIENCE OF DENTAL MATERIALS ON THE LEARNING EXPERIENCES OF UNDERGRADUATE STUDENTS
Haroon Shahid Qazi

Islamabad Medical & Dental College Islamabad Pakistan

Abid Ashar

FMH College of Medicine and Dentistry Lahore Pakistan

Syeda Amina Ahmad

FMH College of Medicine and Dentistry Lahore Pakistan
Keywords:
Assessment, Clinical rotations, Dental education, Integration, Science of dental materials
Abstract
Objective: To investigate the impact of an innovative approach for teaching Science of Dental Materials on the learning experiences of undergraduate dental students by assessing their performance at the end of the academic year.
Study Design: Action research with a mixed method approach.
Place and Duration of Study: The study was conducted at Islamabad Medical & Dental College (Dental Section). The duration of study was three and a half years from Jan 2011 to Apr 2013.
Material and Methods: The entire first year of session 2011 (groups A, n=50) and session 2012 (group B, n=51) comprised the study's sample, using non-probability convenience sampling technique. Group A was taught science of dental materials traditionally while innovation by adding clinical rotations in the curriculum was done for group B. At the end of the academic year assessments scores were compared by independent t-test and
assessment outcome (pass/fail) was compared by chi-square test. When these sessions were in their final year a focus group discussion amongst the groups and senior faculty were done.
Results: Assessment scores showed no significant difference. Assessment outcome of practical's showed significant difference (p=0.004) relating to improvement in group B. Focus group discussion showed group B students relating to dental materials in clinical context with a much better understanding. Faculty found it to be a pleasant experience however more resource intensive.
Conclusion: Clinical correlation of dental materials showed significant improvement in first year students due to an innovative approach by the help of the new rotational plan in clinics.
Downloads
Download data is not yet available.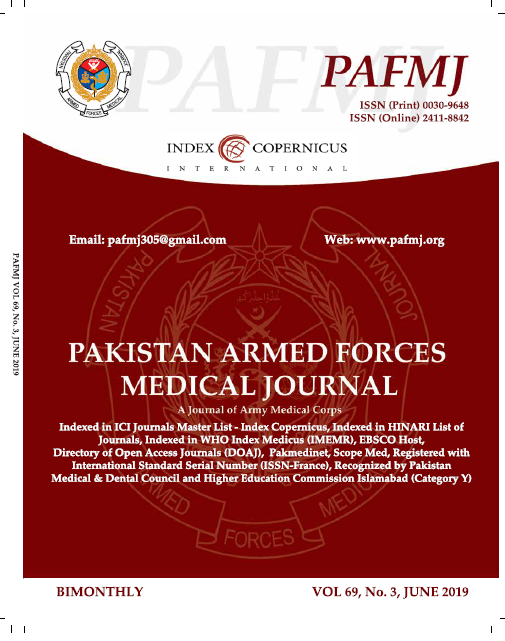 How to Cite
Qazi, H., Ashar, A., & Ahmad, S. (2019). IMPACT OF AN INNOVATIVE APPROACH OF TEACHING SCIENCE OF DENTAL MATERIALS ON THE LEARNING EXPERIENCES OF UNDERGRADUATE STUDENTS. Pakistan Armed Forces Medical Journal (PAFMJ), 69(3), 582-88. Retrieved from https://pafmj.org/index.php/PAFMJ/article/view/3031
Section
Original Articles