MIPO IN DISTAL TIBIAL METAPHYSEAL FRACTURES A COMPARISON AMONG DCP, LCP AND PRE-CONTOURED DT-LCP
Hassan Mahmud Syed

Combined Military Hospital Lahore/National University of Medical Sciences (NUMS) Pakistan

Muhammad Suhail Amin

Combined Military Hospital/National University of Medical Sciences (NUMS) Rawalpindi Pakistan

Muhammad Talha

Combined Military Hospital Peshawar Pakistan

Adnan Anwer

Combined Military Hospital/National University of Medical Sciences (NUMS) Rawalpindi Pakistan
Keywords:
Comminuted fractures, Distal Tibia, DCP, LCP, DT-LCP, MIP
Abstract
Objective: To compare the results with three types of plates in treatment of comminuted distal tibial metaphyseal fractures with minimally invasive plate osteosynthesis (MIPO).
Study Design: Retrospective non randomized comparative study.
Place and Duration of Study: Department of Orthopaedic Surgery, CMH Multan, Muzaffarabad and Rawalpindi from Mar 2007 to Oct 2012.
Patients and Methods: Total 51 patients were managed by MIPO technique. A 4.5mm Narrow Dynamic Compression Plate (DCP) was used in 16 cases, 4.5mm Narrow Locking Compression Plate (LCP) in 12 and 3.5 mm pre-contoured distal tibial LCP (DT-LCP) in 23 cases. Assessment was done monthly until radiological union and quarterly thereafter.
Results: There were 37 males, 14 females, mean age of 33 years: (Range 14-66 years). Primary union achieved in 14 of 16 cases (87.5%) with DCP and 2 (12.5%) went on secondary union after bone grafting. 10 of 12 cases (83.33%) with LCP went into primary and two into secondary union (16.66%). Primary union occurred in all case treated by DT-LCP. One case of superficial infection occurred in each group. Functional results were "excellent to good" in 14 (87.5%) in DCP group, 11 ((91%) in LCP and 22 ((95.6%) in DT- LCP group. Time to union and functional outcome in the three groups was insignificant (p>0.05).
Conclusion: MIPO may be used successfully, with different plates, for distal tibial metaphysial fractures because of less disturbance to soft tissue and blood supply.
Downloads
Download data is not yet available.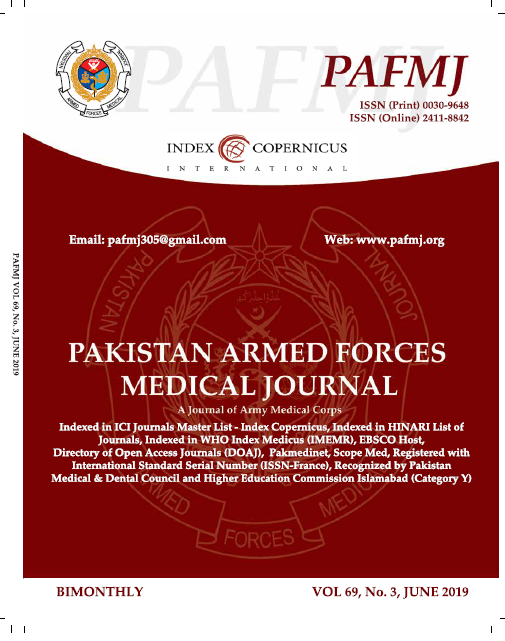 How to Cite
Syed, H., Amin, M., Talha, M., & Anwer, A. (2019). MIPO IN DISTAL TIBIAL METAPHYSEAL FRACTURES A COMPARISON AMONG DCP, LCP AND PRE-CONTOURED DT-LCP. Pakistan Armed Forces Medical Journal (PAFMJ), 69(3), 554-59. Retrieved from https://pafmj.org/index.php/PAFMJ/article/view/3026
Section
Original Articles