A COMPARISON OF COMPLICATIONS IN PREVIOUS CAESAREAN WITH NON CAESAREAN CASES UNDERGOING MISOPROSTOL INDUCED MID TRIMESTER ABORTIONS
Bushra Iktikhar

Combined Military Hospital Chhor Pakistan

Rozina Khanum

Combined Military Hospital Kohat Pakistan

Nuzhat Aisha Akram

Karachi Institute of Medical Sciences Karachi Pakistan

Saima Nasreen

Combined Military Hospital Lahore/National University of Medical Sciences (NUMS) Pakistan

Faiza Ibrar

Foundation Hospital Rawalpindi Pakistan

Abdul Fatah

Combined Military Hospital Chhor Pakistan
Keywords:
Misoprostol Induced Mid Trimester (MI-MT) abortion, previous caesarean and non-caesarean cases, comparison of complication
Abstract
Objective: To compare cases of previous caesarean cases with non- caesarean for complications in Misoprostol Induced Mid Trimester abortions
Study Design: A prospective cohort study design.
Place and Duration of Study: This study was conducted at Combined Military Hospital (CMH) Nowshera, from Jan 2014 to Jun 2015.
Patient and Methods: This is a comparative study of two cohorts. One of the cohorts, labeled as 'A' included cases (n=30) of at least one previous caesarean delivery and other cohort labeled as 'B' were normal cases (n=76) with no uterine scars either from previous caesarean delivery or any other surgery. Both these cohorts were admitted to CMH Nowshera for Misoprostol Induced Mid Trimester (MI-MT) abortions. Indications for abortion varied from case to case. Comparison between the two cohorts was made for complications including (1) Heavy blood loss (2) Severe pain (3) Failure of Induction. A cut off value was set for heavy blood loss (>1000 ml), while severity of pain was a subjective perception, categorizing into mild to moderate and severe. Failure of induction was considered after 72 hours. Chi square and Fisher's exact tests were performed to test the null hypothesis of no significant difference between the two cohorts for each of the three complications. Effect of two confounding variables (i) Maternal age and (ii) Parity was also investigated. ANOVA was performed to find out a significant difference between categories of maternal age and parity within each cohort.
Results: Chi square and Fisher's exact tests showed a significant difference (p-value<0.05) between the two cohorts for all the three complications of MI-MT abortions. Incidence of heavy blood loss, severe pain and failure of induction were significantly higher in cohort 'A' that comprised of previous caesarean cases.
Conclusion: This study emphasized the need for more sensitive and careful management of cases admitted for termination of pregnancies with history of previous caesarean sections.
Downloads
Download data is not yet available.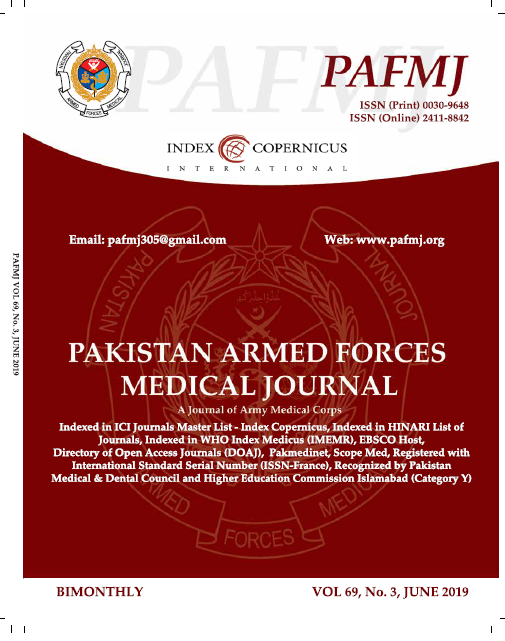 How to Cite
Iktikhar, B., Khanum, R., Akram, N., Nasreen, S., Ibrar, F., & Fatah, A. (2019). A COMPARISON OF COMPLICATIONS IN PREVIOUS CAESAREAN WITH NON CAESAREAN CASES UNDERGOING MISOPROSTOL INDUCED MID TRIMESTER ABORTIONS. Pakistan Armed Forces Medical Journal (PAFMJ), 69(3), 528-33. Retrieved from https://pafmj.org/index.php/PAFMJ/article/view/3021
Section
Original Articles