FREQUENCY OF HEMODIALYSIS CATHETER RELATED INFECTIOUS COMPLICATIONS IN PATIENTS WITH END STAGE RENAL DISEASE
Uzma Shehzadi

The Children's Hospital and the Institute of Child Health, Lahore Pakistan

Naureen Akhtar

The Children's Hospital and the Institute of Child Health, Lahore Pakistan

Muhammad Aamir Usman

The Children's Hospital and the Institute of Child Health, Lahore Pakistan

Adeela Chaudhry

The Children's Hospital and the Institute of Child Health, Lahore Pakistan

Faiza Noor

The Children's Hospital and the Institute of Child Health, Lahore Pakistan

Nazia Rafique

Services Hospital Lahore Pakistan
Keywords:
Blood stream infections, Complications, End stage renal disease, Frequency, Hemodialysis
Abstract
Objective: To determine frequency of various types of infectious complications occurring in patients undergoing hemodialysis using temporary non-cuffed hemodialysis catheters.
Study Design: Cross-sectional study.
Place and Duration of Study: The Children's Hospital and the Institute of Child Health, Lahore, from Oct 2016 to Sep 2017.
Material and Methods: The study was conducted on 104 patients aged 5-15 years with end stage renal disease. Demographic information like age, gender, duration of end stage renal disease (ESRD), and details about etiology of ESRD, number of days catheter remained in situ, difficult catheter insertion and infectious complications related to catheter were recorded. Exit site, tunnel and blood stream infections and their causative organisms
were detected using blood and catheter tip cultures.
Results: The mean age of the patients was 11.1 ± 2.7 (range: 5-15) years and female to male ratio 1.48. Internal jugular, femoral and subclavian veins were used in 85.6%, 7.7% and 6.7% of the cases respectively. The frequency of catheter related exit site infection, tunnel infection, blood stream infection and infective endocarditis was found to be 16.3%, 7.7%, 52.9% and 34.6% respectively. Staphylococcus aureus, Escherichia coli and Klebsiella pneumonia were the commonest etiological pathogens in blood cultures whereas Staphylococcus aureus, Pseudomonas aeuroginosa and Escherichia coli were the commonest organisms found in the catheter tip cultures.
Conclusion: Hemodialysis poses a very heavy burden of blood stream infections which should alert clinicians of their timely management to prevent life threatening complications later.
Downloads
Download data is not yet available.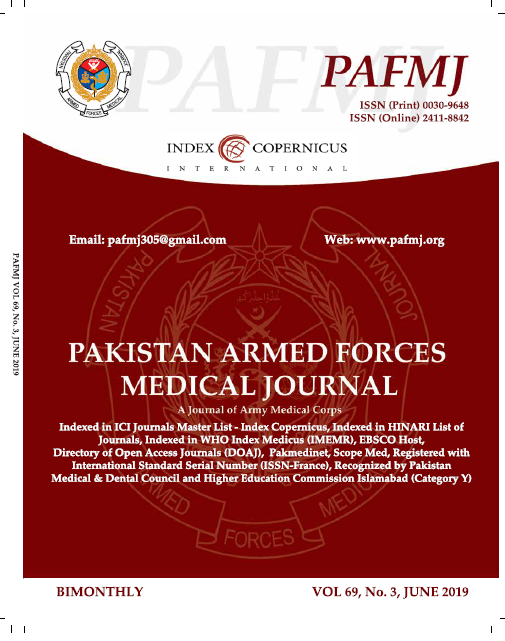 How to Cite
Shehzadi, U., Akhtar, N., Usman, M., Chaudhry, A., Noor, F., & Rafique, N. (2019). FREQUENCY OF HEMODIALYSIS CATHETER RELATED INFECTIOUS COMPLICATIONS IN PATIENTS WITH END STAGE RENAL DISEASE. Pakistan Armed Forces Medical Journal (PAFMJ), 69(3), 477-82. Retrieved from https://pafmj.org/index.php/PAFMJ/article/view/3012
Section
Original Articles