ENDOSCOPIC FINDINGS IN RELATION TO AGE AND SYMPTOMS IN PATIENTS PRESENTING WITH DYSPEPSIA
Keywords:
Dyspepsia, Functional dyspepsia, Undiagnosed dyspepsia, Upper GI endoscopy.
Abstract
Objectives: To find the relative frequencies of different diseases causing dyspepsia, and to identify different diseases according to age.
Study Design: Prospective cross-sectional study.
Place and Duration of Study: Department of Gastroenterology, Pak Emirates Military Hospital Rawalpindi, from Jan 2017 to Oct 2017.
Material and Methods: Patients of age 18 to 80 years with dyspepsia non-responding or refractory to empiric therapy or those with alarm features were offered upper-gastrointestinal-endoscopy as per standard protocol and the results were recorded.
Results: A total of 667 patients with 65% males and 35% females were enrolled. Normal endoscopy was reported in 58.8% patients with 35% males and 24% females (total=667), whereas abnormal findings accounted to 41.2% patients with 30% males and 11.2% females. Mixed symptoms were the commonest complaint (75%). The median age group was 41-50 years with median symptom duration of <1 year and >1 <2 years for abnormal
and normal endoscopic findings, respectively. Alarm features were present in 14.7% of the population with 60% corresponding to abnormal endoscopic findings. The most common alarm feature was dysphagia (38.8%).
The most common endoscopic findings were non-specific findings including gastropathy/doudenopathy (49.6%), followed by hiatal-hernia (16.4%), growths/malignancies (8.4%) reflux-esophagitis (7.3%), ulcers (5.8%), Barret'sesophagus (4.4%), erosions (4%) and esophageal-candidiasis (1.4%).
Conclusion: Non-specific gastro-doudenopathy, hiatal-hernia, growths/malignancies, reflux-esophagitis, ulcers, Barret's-esophagus, erosions and esophageal-candidiasis were the commonest findings in descending order. Epigastric-pain as a symptom and erosions, ulcers and non-specific-findings as endoscopic-findings presented in younger population.
Downloads
Download data is not yet available.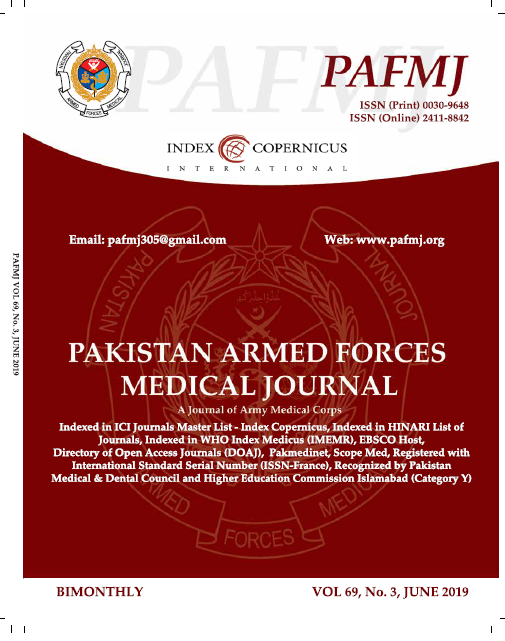 Downloads
How to Cite
Alam, laima, & Saeed, F. (2019). ENDOSCOPIC FINDINGS IN RELATION TO AGE AND SYMPTOMS IN PATIENTS PRESENTING WITH DYSPEPSIA. Pakistan Armed Forces Medical Journal, 69(3), 443–49. Retrieved from https://pafmj.org/index.php/PAFMJ/article/view/3006
Section
Original Articles