AWARENESS REGARDING DIABETES AND ITS MANAGEMENT AMONGST PATIENTS VISITING TERTIARY CARE HOSPITALS AND ITS IMPACT ON GLYCEMIC CONTROL
Diabetes and its Management Awareness
Anum Khan

Pak Emirates Military Hospital/National University of Medical Sciences (NUMS) Rawalpindi Pakistan

Abdul Rehman Arshad

Pak Emirates Military Hospital/National University of Medical Sciences (NUMS) Rawalpindi Pakistan

Asif Farooq

Pak Emirates Military Hospital/National University of Medical Sciences (NUMS) Rawalpindi Pakistan

Sheharyar Raashid

Pak Emirates Military Hospital/National University of Medical Sciences (NUMS) Rawalpindi Pakistan
Keywords:
Awareness, Glycemic control, Type-II diabetes mellitus
Abstract
Objective: To assess factors affecting disease awareness in diabetics, and its association with glycemic control.
Study Design: Cross-sectional analytical study.
Place and Duration of Study: Department of Medicine, Pak Emirates Military Hospital Rawalpindi from Jan to Apr 2019.
Methodology: Outdoor patients with type-II diabetes mellitus were selected using a consecutive sampling technique. Disease awareness was assessed with a modified Diabetes Knowledge Questionnaire, with scores >70% considered satisfactory. Recent HbA1c levels were used to determine glycemic control (<7% reflecting good glycemic control). Demographic data, including age, gender, level of education, residence, duration of diabetes, mode of treatment, smoking status and co-existing hypertension, were also recorded.
Results: There were 212 patients with equal gender distribution and mean age of 55.90 ± 11.96 years. Of these, 117 (55.18%) lived in rural areas, 77 (36.32%) were educated, 34 (16.03%) were smokers and 121 (57.07%) had co-existing hypertension. The mean duration of diabetes was 81.72 ± 71.67 months (range 3-360 months) and mean HbA1c levels were 9.55 ± 2.56%. Higher HbA1c levels were associated with poorer DKQ scores. The level of education and the duration of diabetes significantly predicted DKQ scores.
Conclusion: Lack of disease awareness leads to poor glycemic control. Better education and longer disease duration impact the understanding of diabetes.
Downloads
Download data is not yet available.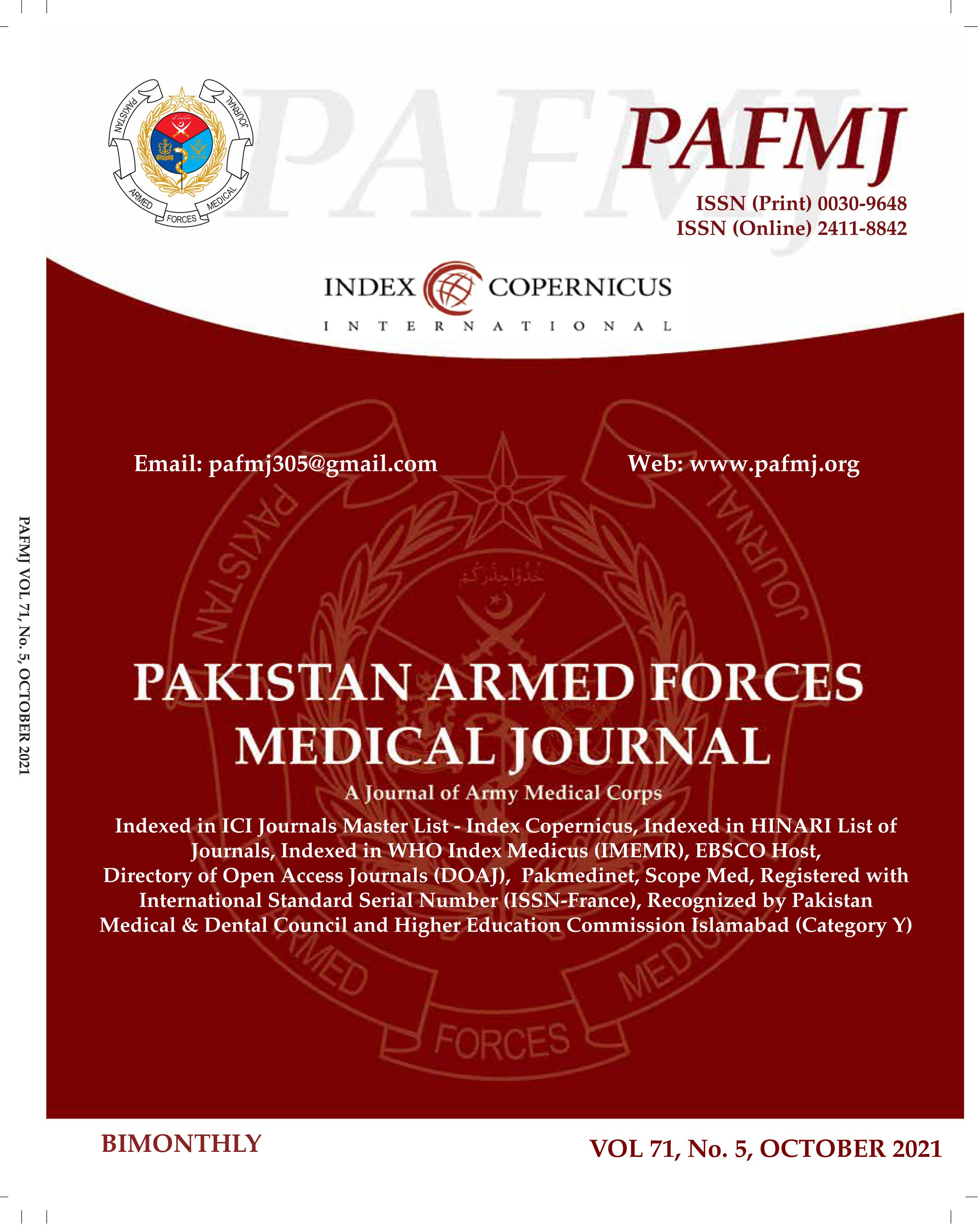 How to Cite
Khan, A., Arshad, A., Farooq, A., & Raashid, S. (2021). AWARENESS REGARDING DIABETES AND ITS MANAGEMENT AMONGST PATIENTS VISITING TERTIARY CARE HOSPITALS AND ITS IMPACT ON GLYCEMIC CONTROL. Pakistan Armed Forces Medical Journal, 71(5), 1815-19. https://doi.org/10.51253/pafmj.v71i5.2998
Section
Original Articles