REMISSION RATE OF PRE-B ALL (ACUTE LYMPHOBLASTIC LEUKEMIA) AFTER INDUCTION CHEMOTHERAPY FOLLOWING UNITED KINGDOM ACUTE LYMPHOBLASTIC LEUKAEMIA 2011 (UKALL 2011) TRIAL PROTOCOL
Hafiz Muhammad Murtaza

Pak Emirates Military Hospital/National University of Medical Sciences (NUMS) Rawalpindi Pakistan

Tariq Ghafoor

Armed Forces Bone Marrow Transplantation/National University of Medical Sciences (NUMS) Rawalpindi Pakistan

Muhammad Shaheen Iqbal

Pakistan Council of Scientific and Industrial Research, Islamabad Pakistan
Keywords:
Acute lymphoblastic Leukaemia, Induction chemotherapy, Pre-B acute lymphoblastic leukaemia, Remission rate, United Kingdom acute lymphoblastic leukaemia
Abstract
Objective: To find out the rate of remission of Pre-B Acute Lymphoblastic Leukaemia in children at the end of induction treatment with United Kingdom Acute Lymphoblastic Leukaemia (UKALL) 2011 chemotherapy protocol.
Study Design: Prospective observational study.
Place and Duration of Study: Paediatric Oncology Unit, Combined Military Hospital Rawalpindi, from Nov 2017 to Oct 2018.
Methodology: Data of newly diagnosed patients of Pre-B Acute lymphoblastic Leukaemia, between 1 and 15 years of age was analysed. Patients were divided into low and high-risk groups and treated with United Kingdom Acute Lymphoblastic Leukaemia 2011 induction chemotherapy on regimens A and B respectively. Bone marrow aspiration was performed at the end of induction therapy (28 days), to document their remission status. Patients having ≤5% of blast cells were categorized to be in remission state and those with >5% blast cells were not considered in a state of remission.
Results: A total of 79 patients, 45 (57%) male and 34 (43%) females were enrolled. The mean age was 5.79 ± 3.59 years. Fever (86.1%) and pallor (77.2%) were the most common presentations. Fifty-three (67.1%) patients were treated with regimen A and 26 (32.9%) had regimen B chemotherapy. Febrile neutropenia and myopathy were the most common complications seen in 73 (92.4%) and 54 (71.1%) patients respectively. Eight patients (10.1%) died during induction chemotherapy. Bone marrow aspiration done at the end showed a 100% rate of remission for both regimens A and B.
Conclusion: Risk-based treatment of paediatric Acute lymphoblastic Leukaemia............
Downloads
Download data is not yet available.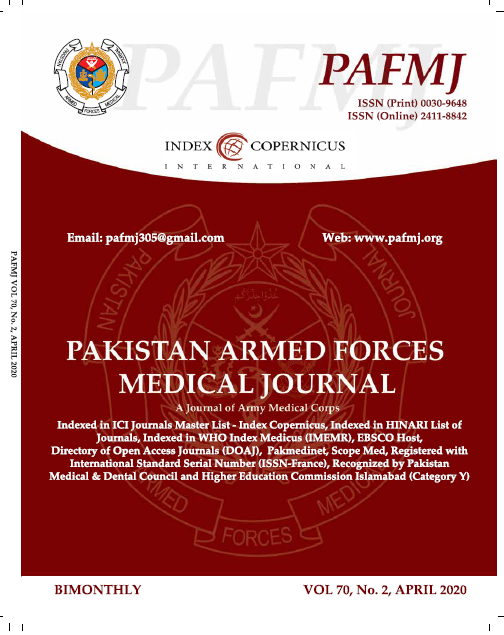 How to Cite
Murtaza, H., Ghafoor, T., & Iqbal, M. (2021). REMISSION RATE OF PRE-B ALL (ACUTE LYMPHOBLASTIC LEUKEMIA) AFTER INDUCTION CHEMOTHERAPY FOLLOWING UNITED KINGDOM ACUTE LYMPHOBLASTIC LEUKAEMIA 2011 (UKALL 2011) TRIAL PROTOCOL. Pakistan Armed Forces Medical Journal, 71(2), 469-72. https://doi.org/10.51253/pafmj.v71i2.2966
Section
Original Articles