EVALUATION OF RADICAL CHOLECYSTECTOMY FOR INCIDENTAL GALLBLADDER CARCINOMA DIAGNOSED AFTER CHOLECYSTECTOMY, SINGLE CENTER EXPERIENCE
Radical cholecystectomy for incidental gallbladder carcinoma
Kamran Safdar

Pak Emirates Military Hospital/National University of Medical Sciences (NUMS) Rawalpindi Pakistan

Nasir Mehmood wattoo

Pak Emirates Military Hospital/National University of Medical Sciences (NUMS) Rawalpindi Pakistan

Qasim Butt

Pak Emirates Military Hospital/National University of Medical Sciences (NUMS) Rawalpindi Pakistan

Talha Yasin

Pak Emirates Military Hospital/National University of Medical Sciences (NUMS) Rawalpindi Pakistan
Keywords:
Cholecystectomy, Gall bladder carcinoma, Incidental
Abstract
Objective: To evaluate the procedure of radical cholecystectomy for incidental gallbladder carcinoma diagnosed after cholecystectomy at a tertiary care teaching hospital of Pakistan.
Study Design: Observational study (case series).
Place and Duration of Study: Army Liver Transplant Unit, Pak Emirates Military Hospital, Rawalpindi, from Jun
2018 to Apr 2019.
Methodology: A prospective study was conducted on 11 patients who underwent routine cholecystectomy either open or laparoscopic for a possibly benign condition but were found with a malignancy on histopathology, were included in the study. Detailed assessment regarding all the side effects was done immediately after the procedure, at 48 hours, at time of discharge and two weeks after the procedure was done on all the participants.
Results: Out of 11patients included in the final analysis, 06 were male and 05 were female. Mean age of patients put who underwent cholecystectomy and had incidental finding of cancer was 44.23 ± 3.621. Mean duration of hospital stay after the surgery was 5.13 ± 2.175. Most of the patients had well differentiated tumor. Post-operative pain was the commonest complication among the target population followed by biliary complication.
Cholecystectomy,Conclusion: Gallbladder carcinoma may be missed on routine clinical screening and radiological modalities.
Surgeon should be careful enough and suspect unusual finding of malignancy in routine surgeries. Radical
surgery of the incidental gallbladder cancer emerged as an effective management modality among the patients
managed in our set up during this study period.
Downloads
Download data is not yet available.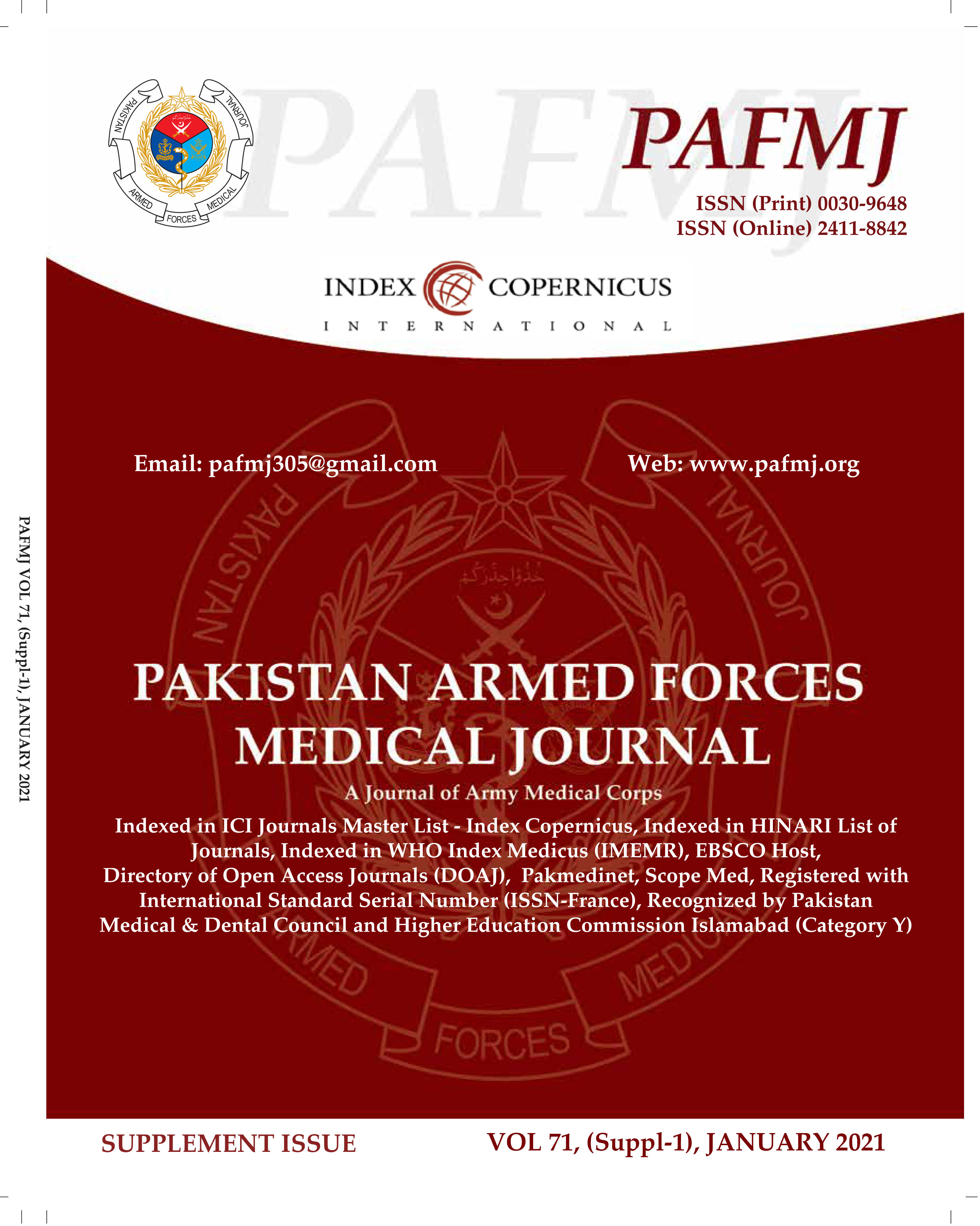 How to Cite
Safdar, K., wattoo, N., Butt, Q., & Yasin, T. (2021). EVALUATION OF RADICAL CHOLECYSTECTOMY FOR INCIDENTAL GALLBLADDER CARCINOMA DIAGNOSED AFTER CHOLECYSTECTOMY, SINGLE CENTER EXPERIENCE. PAFMJ, 71(Suppl-1), S97-101. https://doi.org/10.51253/pafmj.v71iSuppl-1.2955
Section
Original Articles