ANALYSIS OF FACTORS ASSOCIATED WITH DELAYED GASTRIC EMPTYING AFTER WHIPPLE'S PROCEDURE
Talha Yasin

Pak Emirates Military Hospital/National University of Medical Sciences (NUMS) Rawalpindi Pakistan

Nasir Mehmud Wattoo

Pak Emirates Military Hospital/National University of Medical Sciences (NUMS) Rawalpindi Pakistan

Qasim Butt

Pak Emirates Military Hospital/National University of Medical Sciences (NUMS) Rawalpindi Pakistan

Kamran Safdar

Pak Emirates Military Hospital/National University of Medical Sciences (NUMS) Rawalpindi Pakistan

Muhammad Asif

Combined Military Hospital/National University of Medical Sciences (NUMS) Rawalpindi Pakistan
Keywords:
Whipple's, Delayed Gastric Emptying, Risk factors
Abstract
Objective: To assess the frequency and analyze associated factors of delayed gastric emptying among the patients undergoing Whipple's procedure at surgical unit of a tertiary care centre in Pakistan.
Study Design: Cross sectional study.
Place and Duration of Study: Pak Emirates Military Hospital and Combined Military Hospital Rawalpindi,
Pakistan, Apr 2018 to Mar 2019.
Methodology: A prospective study was conducted on 80 patients of both the genders who underwent Whipple's procedure at the surgical unit of abovementioned hospitals. Delayed gastric emptying was diagnosed based on the criteria as defined by the International Study Group of Pancreatic Surgery by the consultant surgeons involved. Factors studied in our analysis included age, gender, smoking, presence of co morbidities, peroperative blood transfusion, sepsis, operative time and BMI.
Results: Out of 80 patients included in the final analysis, 61 (76.25%) were male and 19 (23.75%) were female.
Mean age of patients included in our study was 46.31 ± 6.711 years. Thirty six (45%) patients had delayed gastric
emptying while 44 (55%) did not meet the criteria as mentioned above. With binary logistic regression we found
that presence of sepsis and high BMI had a strong relationship (p-value <0.05) with delayed gastric emptying
after the Whipple's procedure.
Conclusion: Delayed gastric emptying is a fairly common phenomenon among the patients undergoing
Whipple's procedure. High BMI and post-operative sepsis constitute the group which is at the highest risk of
developing this post-operative complication in our study.
Downloads
Download data is not yet available.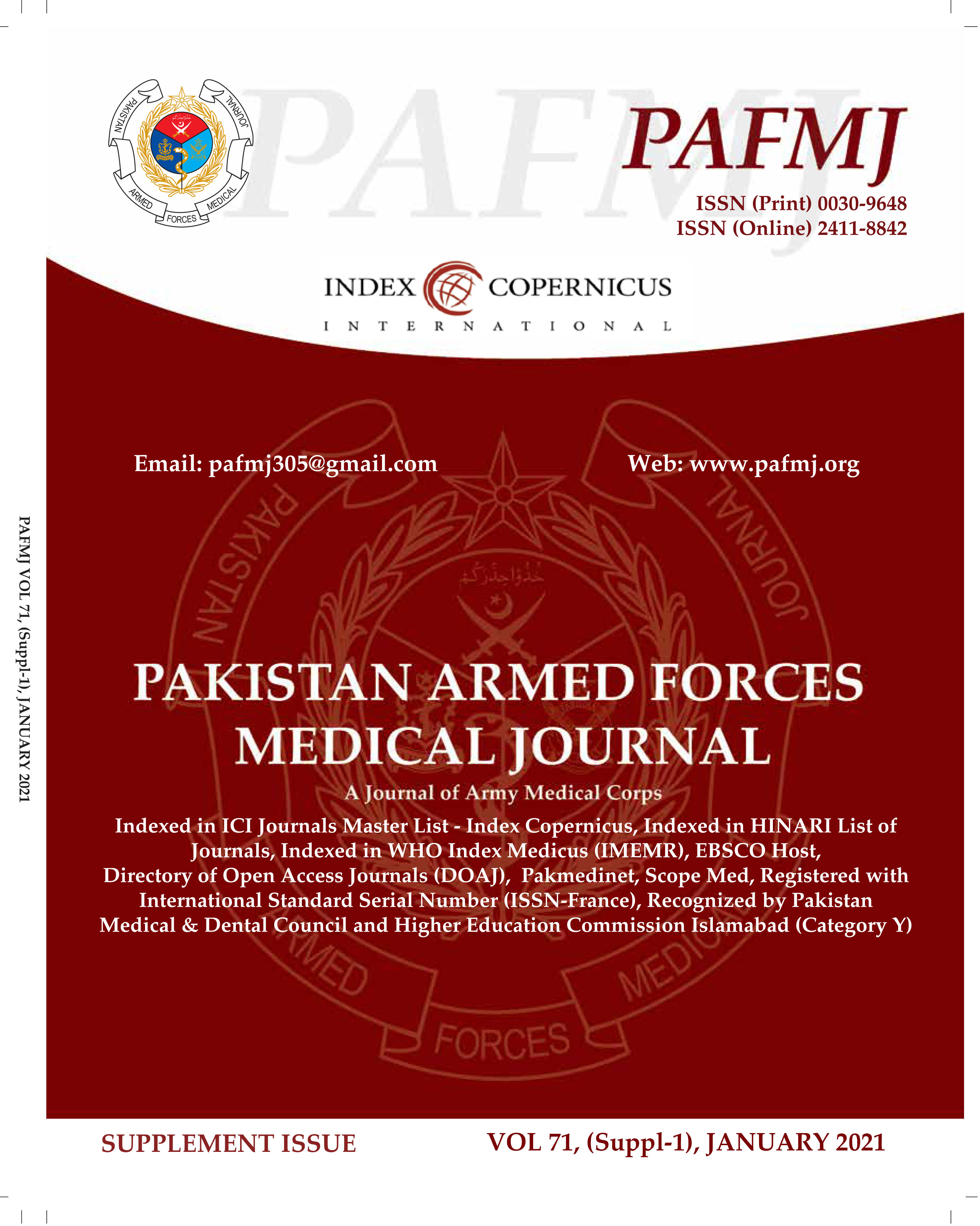 How to Cite
Yasin, T., Wattoo, N., Butt, Q., Safdar, K., & Asif, M. (2021). ANALYSIS OF FACTORS ASSOCIATED WITH DELAYED GASTRIC EMPTYING AFTER WHIPPLE'S PROCEDURE. PAFMJ, 71(Suppl-1), S235-39. https://doi.org/10.51253/pafmj.v71iSuppl-1.2951
Section
Original Articles