THE RELIABILITY OF GINGIVAL CREVICULAR BLOOD AS A DIAGNOSTIC TOOL FOR DIABETES BY USING GLUCOSE SELF-MONITORING DEVICE IN PATIENTS WITH PERIODONTAL DISEASE WITH AND WITHOUT DIABETES
Farhan Butt

Armed Forces Institute of Dentistry/National University of Medical Sciences (NUMS) Rawalpindi Pakistan

Marium Iqbal

Jinnah Medical and Dental College, Karachi Pakistan

Saima Hanif

Jinnah Medical and Dental College, Karachi Pakistan

M. Mohsin Ghiraj

Jinnah Medical and Dental College, Karachi Pakistan

Faisal .

Armed Forces Institute of Dentistry/National University of Medical Sciences (NUMS) Rawalpindi Pakistan

Mudassir Hussain

Karachi Medical and Dental College, Karachi Pakistan
Keywords:
Diabetes Mellitus, Finger stick blood, Glucometer, Periodontitis
Abstract
Objective: To assess the reliability of gingival crevicular blood as a diagnostic tool for diabetes in patients with periodontal disease with and without diabetes.
Study Design: Cross sectional study.
Place and Duration of Study: Department of Periodontics, Jinnah Medical and Dental College, Karachi, Pakistan, from Jul 2017 to Jul 2018.
Methodology: Forty patients with diabetes and 60 patients without diabetes with mild to moderate gingivitis or periodontitis in either the upper or lower anterior region were included. Gingival crevicular blood (GCB) was collected and was assessed by glucometer. The same patient underwent finger stick blood (FSB) and intravenous blood glucose level (IV). Plaque Index (PI), Periodontal Pocket Depth (PPD) and Gingival index were also recorded.
Results: A positive correlation (r) was detected between glucose levels of Gingival crevicular blood with finger stick blood with the value of coefficient correlation 'r'=0.849. The mean values of Gingival index in patients without diabetes is 1.53 ± 0.97mm, patients with newly diagnosed diabetes is 1.87 ± 0.920mm and without diabetes is 2.13± 0.94mm.
Conclusion: Blood glucose level can be assessed with the help of Gingival crevicular blood as this technique was found easy and non-invasive to the patient and it can help in diagnosing diabetes during regular periodontal treatment.
Downloads
Download data is not yet available.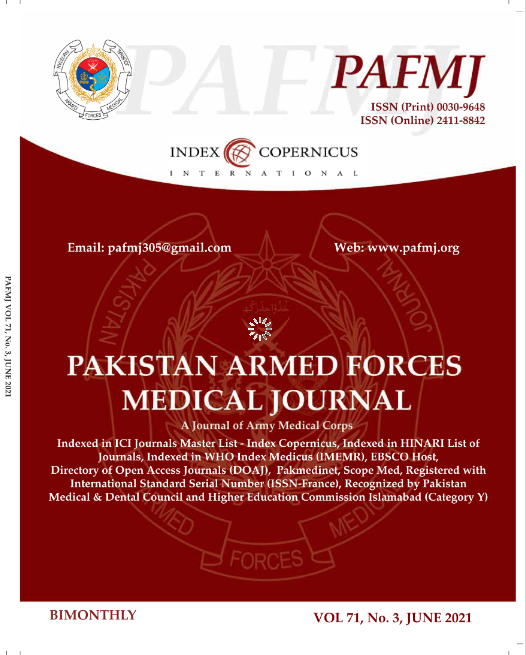 How to Cite
Butt, F., Iqbal, M., Hanif, S., Ghiraj, M. M., ., F., & Hussain, M. (2021). THE RELIABILITY OF GINGIVAL CREVICULAR BLOOD AS A DIAGNOSTIC TOOL FOR DIABETES BY USING GLUCOSE SELF-MONITORING DEVICE IN PATIENTS WITH PERIODONTAL DISEASE WITH AND WITHOUT DIABETES. PAFMJ, 71(3), 779-82. https://doi.org/10.51253/pafmj.v71i3.2942
Section
Original Articles