SPECTRUM OF FINDINGS IN PATIENTS PRESENTING FOR UPPER GASTROINTESTINAL ENDOSCOPY AT A TERTIARY CARE HOSPITAL AND THE INFLUENCE OF AGE AND GENDER
Keywords:
Decompensated chronic liver disease, Gastropathy, Hiatal hernia, Upper gastrointestinal endoscopy, Varices
Abstract
Objective: To determine the spectrum of findings in patients presenting for upper gastrointestinal (UGI) endoscopy and investigate role of age and gender.
Study Design: Cross-sectional study.
Place and Duration of Study: Department of Gastroenterology & Internal Medicine, Combined Military Hospital Kharian, from Jul 2017 to Mar 2019.
Methodology: The data regarding 638 consecutive patients who underwent upper gastrointestinal endoscopy in the department were collected from the computer-based database and patients were stratified into two groups according to their age: ≤50 and >50 years.
Results: The mean age was 50.2 ± 17.4 (range: 7-100) years. There were 431 males and 207 females. The commonest presenting complaint was decompensated chronic liver disease (CLD) 162 (25.4%). The upper gastrointestinal endoscopy was normal in 306 (48%) and abnormal in 332 (52%) patients. The commonest abnormality seen on upper gastrointestinal endoscopy was esophageal varices seen in 167 (26.2%) followed by non-specific gastropathy, and hiatal hernia seen in 28 (4.4%) and 21 (3.3%) patients respectively. No significant differences were observed among males and females for a positive upper gastrointestinal endoscopy. Significantly large number of patients of age >50 years had an abnormal upper gastrointestinal endoscopy (p
<0.001). The commonest upper gastrointestinal endoscopic abnormalities were similar in both genders and age-groups.
Conclusion: The commonest finding on upper gastrointestinal endoscopy were esophageal varices and non-specific gastropathies. Females and patients ≤50 years had a higher prevalence of a normal upper gastrointestinal endoscopy. The commonly observed upper gastrointestinal endoscopy findings were generally similar among the genders and the age-groups.
Downloads
Download data is not yet available.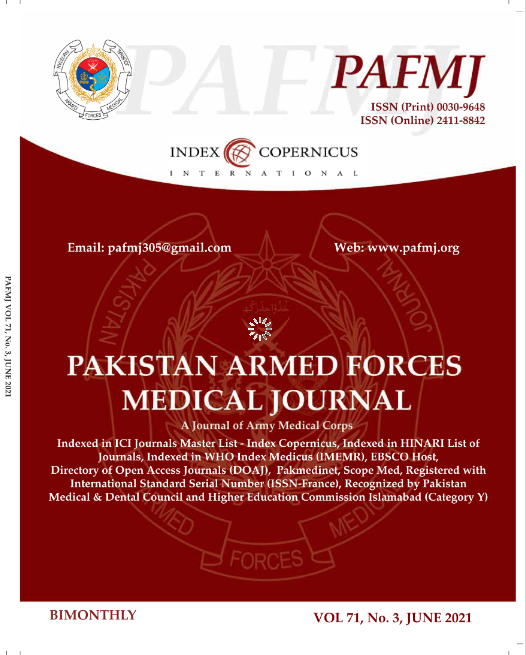 Downloads
How to Cite
Hassan, F., Ahmad, K., Ayaz, S. B., & Khalil, H. B. (2021). SPECTRUM OF FINDINGS IN PATIENTS PRESENTING FOR UPPER GASTROINTESTINAL ENDOSCOPY AT A TERTIARY CARE HOSPITAL AND THE INFLUENCE OF AGE AND GENDER. Pakistan Armed Forces Medical Journal, 71(3), 744–48. https://doi.org/10.51253/pafmj.v71i3.2940
Section
Original Articles