ONE MONTH POST INTENSIVE CARE UNIT DISCHARGE OUTCOME
Nadeem Siddique

National Hospital and Medical Centre, Lahore Pakistan

Muhammad Ahmad

National Hospital and Medical Centre, Lahore Pakistan

Sabir Khan

National Hospital and Medical Centre, Lahore Pakistan

Arshad Taqi

National Hospital and Medical Centre, Lahore Pakistan

Tanvir Hussain

National Hospital and Medical Centre, Lahore Pakistan
Keywords:
Death, Intensive care unit, Medical, Surgical
Abstract
Objective: To determine the outcomes of patients discharged from a general intensive care unit one month after discharge.
Study Design: Descriptive case series.
Place and Duration of Study: Intensive Care Unit - National Hospital and Medical Centre Lahore, from Jan 2018
to Dec 2018.
Methodology: All patients of both genders and age more than 12 years were included. Follow up was done
through a phone call to the contact number provided, one-month post intensive care unit discharge. Information regarding outcome i.e. survival, bed bound state, degree of dependence for day to day activities and return to routine life.
Results: A total of 106 cases were recruited, out of which 55.7% were male and 44.3% female; mean age was
56.86 ± 23.16 years. At 1-month intensive care unit discharge 8.49% of the patients were dead; 73.58% cases had
returned to pre intensive care unit admission routines, 11.32% were partially dependent on someone, 6.6% were bed bound. Death and bed bounding was highest in 60 year or older patients (p=0.03). All 9 cases who had died and 7 who were bed bound were admitted through emergency and remained admitted in the hospital for more than 7 days with p=0.0001. 77.8% of patients who died, 66.7% of patients who were partially dependent and all the bed bound patients required needed ventilation during intensive care unit admission with p=0.0001.
Conclusion: In our series 20% of the patients were either dead or dependent for their daily survival one month
after discharge from intensive care unit.
Keywords: , , ,
Downloads
Download data is not yet available.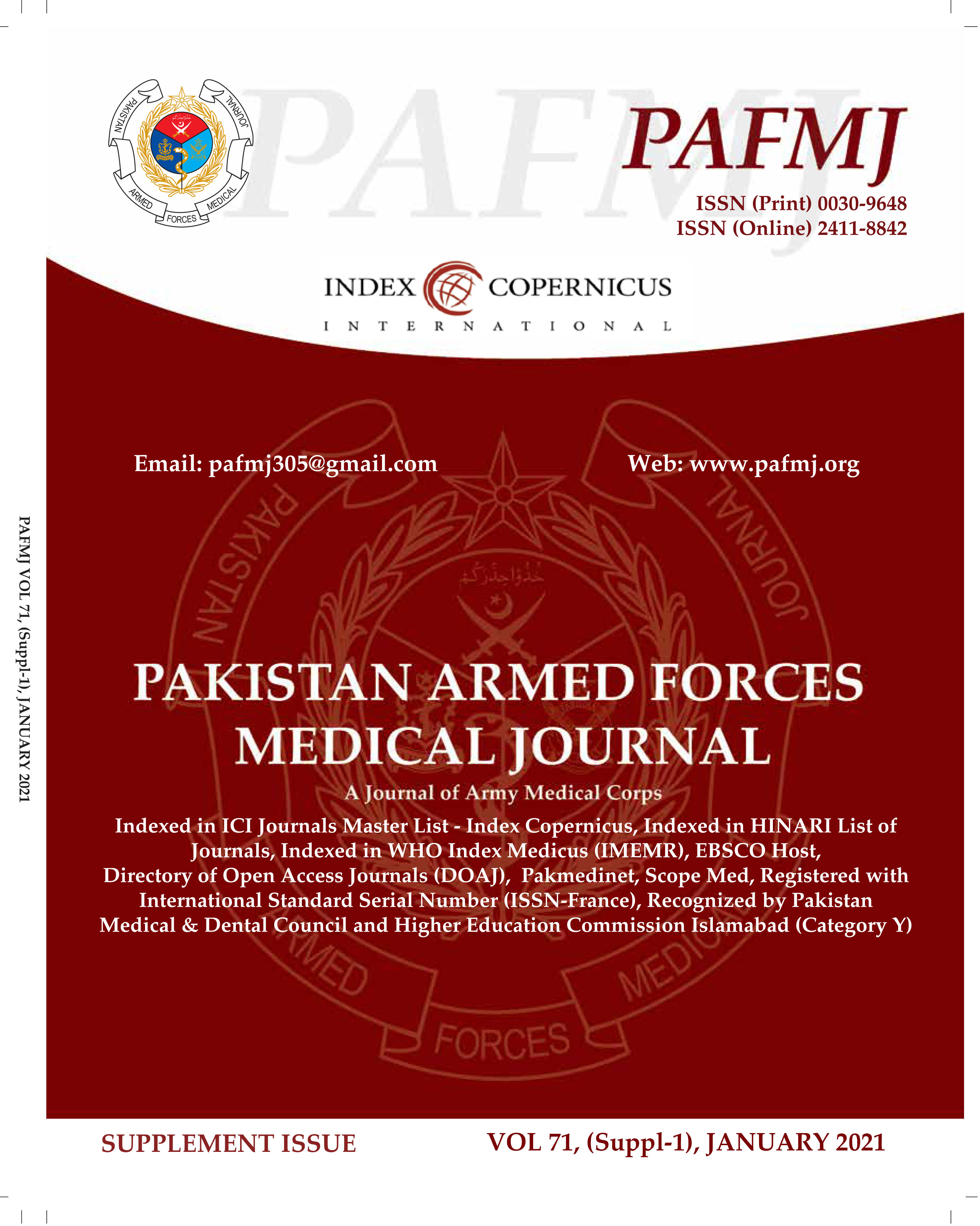 How to Cite
Siddique, N., Ahmad, M., Khan, S., Taqi, A., & Hussain, T. (2021). ONE MONTH POST INTENSIVE CARE UNIT DISCHARGE OUTCOME. PAFMJ, 71(Suppl-1), S224-28. https://doi.org/10.51253/pafmj.v71iSuppl-1.2912
Section
Original Articles