Burden of Pulmonary Tuberculosis and Its Radiological Pattern, in Asymptomatic Young Males in Karachi, Pakistan
Keywords:
Asymptomatic, Burden, Karachi, males, Mycobacterium, Pattern, Pulmonary, Radiological, Tuberculosis
Abstract
Objective: To estimate the burden of pulmonary tuberculosis among asymptomatic young male applicants in a government organization in Pakistan and to find out the pattern of disease on chest x-ray and high-resolution CT chest.
Study Design: Prospective longitudinal study.
Place and Duration of Study: Pakistan Air Force (PAF) Faisal Base Hospital Karachi, Pakistan, from Dec 2017 to Feb 2019.
Methodology: An active search for detecting pulmonary tuberculosis was conducted in 1819 asymptomatic young male adults between 18 and 30 years who had applied for employment in a government organization with a pay scale ranging from 2 to 14 grade. Screening chest x-ray (CXR) was done as a part of their medical examination. High-resolution CT chest, sputum smear bacilloscopic and GeneXpert mycobacterium tuberculosis/resistance to Rifampicin assay tests were done in cases in which chest x-ray was suggestive of pulmonary tuberculosis.
Results: Chest x-Ray and high-resolution CT of five out of 1819 male applicants were suggestive of pulmonary tuberculosis. Three cases (0.16%) were confirmed as positive on lab tests. Radiographic and High-resolution CT patterns showed upper lobe lesions, consistent with the radiological appearance of the immuno-competent host disease.
Conclusion: The considerable presence of pulmonary tuberculosis was detected among asymptomatic young adults of this region; therefore, formulating a strategy to actively detect and treat analogous populations with high susceptibility to Pulmonary tuberculosis could help reduce this endemic disease.
Downloads
Download data is not yet available.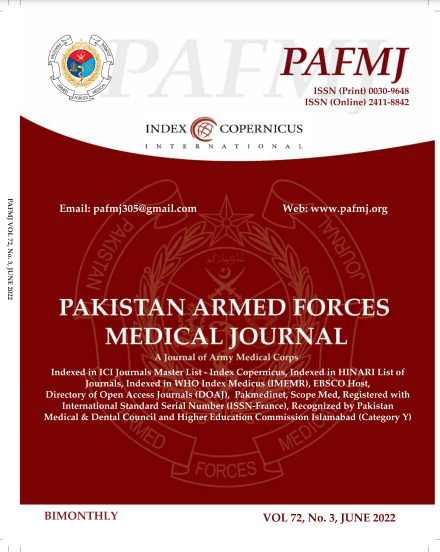 Downloads
How to Cite
Zaidi, H., Shah, H. H., Nasrullah, F., Ihsan, H. R., & Khan, M. U. (2022). Burden of Pulmonary Tuberculosis and Its Radiological Pattern, in Asymptomatic Young Males in Karachi, Pakistan. Pakistan Armed Forces Medical Journal, 72(3), 840–44. https://doi.org/10.51253/pafmj.v72i3.2810
Section
Original Articles