COMPARING THE EFFECTS OF INTRANASAL BETAMETHASONE SODIUM SULPHATE AND BECLOMETHASONE DIPROPIONATE IN PATIENTS WITH ALLERGIC RHINITIS
Amir Ali Khan

Combined Military Hospital Bahawalpur/National University of Medical Sciences (NUMS) Pakistan

Tehmina Rehman syed

Combined Military Hospital Bahawalpur/National University of Medical Sciences (NUMS) Pakistan

Attique Ahmed

Combined Military Hospital Bahawalpur/National University of Medical Sciences (NUMS) Pakistan

Usman Rafique

Combined Military Hospital Bahawalpur/National University of Medical Sciences (NUMS) Pakistan
Keywords:
Allergic rhinitis, Betamethasone, Rhinorrhea
Abstract
Objective: To compare the effects of Intranasal Betamethasone and Beclomethasone in patients with Allergic Rhinitis.
Study Design: Quasi experimental study.
Place and Duration of Study: Combined Military Hospital Bahawalpur and Shahida Islam Medical and Dental College Lodhran, from Mar 2018 to Feb 2019.
Methodology: A total of 200 patients who were between 22-55 years of age were included in this study. Half of them received Intranasal Betamethasone were compared with the other half who received Intranasal Beclomethasone. Clinical success was compared in both groups in terms of patients becoming a symptomatic.
Results: Clinical symptoms were markedly reduced in both groups at the end of the study as 94 (94%) and 78 (78%) of patients who were on Intranasal Betamethasone and Intranasal Beclomethasone respectively showing that Intranasal Betamethasone is superior to Intranasal Beclomethasone in controlling Allergic Rhinitis symptoms. Chi square test is applied and p-value calculated (p=0.045) significant.
Conclusion: Intranasal Betamethasone is far more effective drug as compare to Intranasal Beclomethasone in controlling allergic symptoms.
Downloads
Download data is not yet available.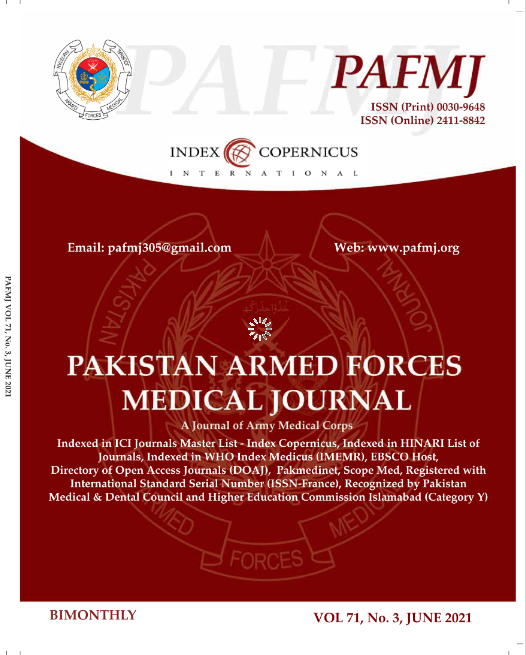 How to Cite
Khan, A., syed, T., Ahmed, A., & Rafique, U. (2021). COMPARING THE EFFECTS OF INTRANASAL BETAMETHASONE SODIUM SULPHATE AND BECLOMETHASONE DIPROPIONATE IN PATIENTS WITH ALLERGIC RHINITIS. Pakistan Armed Forces Medical Journal (PAFMJ), 71(3), 787-90. https://doi.org/10.51253/pafmj.v71i3.2801
Section
Original Articles