VARIOUS FACTORS INVOLVED DURING SAFE LAPAROSCOPIC CHOLECYSTECTOMY IN CASES OF EMPYEMA GALL BLADDER
Muhammad Ismail

Pak Emirates Military Hospital/National University of Medical Sciences (NUMS) Rawalpindi Pakistan

Nasir Mehmood Watto

Pak Emirates Military Hospital/National University of Medical Sciences (NUMS) Rawalpindi Pakistan

Muhammad Qasim Butt

Pak Emirates Military Hospital/National University of Medical Sciences (NUMS) Rawalpindi Pakistan

Fareeha Naz

Pak Emirates Military Hospital/National University of Medical Sciences (NUMS) Rawalpindi Pakistan
Keywords:
Bile duct perforation, C-reactive protien, Empyma gall bladder, Laparoscopic cholecystectomy, Surgical site infection
Abstract
Objective: To evaluate the various factors involved during the safe cholecystectomy performed by laparoscopic method in cases of empyema of gall bladder operated at Pak Emirates Military Hospital Rawalpindi.
Study Design: Cross-sectional analytical study.
Place and Duration of Study: Pak Emirates Military Hospital, Rawalpindi, from Nov 2017 to Mar 2019.
Methodology: This study was performed on 70 patients undergoing cholecystectomy by laparoscopic method for empyema gall bladder during the study period. Adverse effects after the procedure were assessed in detail at 48 hours, at time of discharge and two weeks after the procedure on all the participants. Demographic profile and other factors were compared in the groups with and without the complications by using the chi-square test and binary logistic regression.
Results: Out of 70 patients included in the final analysis 24 (34.3%) were male and 46 (65.7%) were female. Mean age of patients who underwent laparoscopic surgery for empyema gall bladder in our study was 42.43 ± 3.161 years. Bile duct perforation and leakage 6 (8.5%) was the commonest complication among the patients included in our study followed by surgical site infection 5 (7.1%). With binary logistic regression we found that presence of co-morbids and high preoperative C reactive protein had a strong association with presence of complications among the patients undergoing cholecystectomy in our study while age, gender, transfusion during surgery were not linked with the complications during or after the study.
Conclusion: Limited number of patients faced the complications during or after the surgery. Patients with co-morbid.............
Downloads
Download data is not yet available.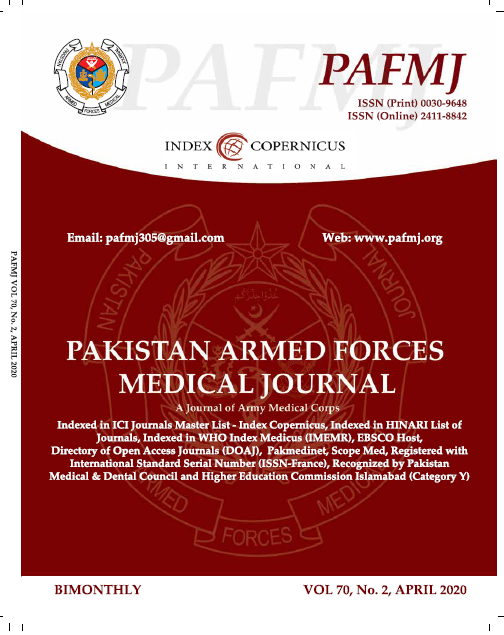 How to Cite
Ismail, M., Watto, N., Butt, M., & Naz, F. (2021). VARIOUS FACTORS INVOLVED DURING SAFE LAPAROSCOPIC CHOLECYSTECTOMY IN CASES OF EMPYEMA GALL BLADDER. Pakistan Armed Forces Medical Journal, 71(2), 540-44. https://doi.org/10.51253/pafmj.v71i2.2791
Section
Original Articles