PREVALENCE OF AUTISM SPECTRUM DISORDERS (ASD) AND ATTENTION DEFICIT HYPERACTIVITY DISORDERS (ADHD) AMONG ADULT PSYCH
Sana Khan

Armed Forces Institute of Mental Health/National University of Medical Sciences (NUMS) Rawalpindi Pakistan

Rashid Qayyum

Armed Forces Institute of Mental Health/National University of Medical Sciences (NUMS) Rawalpindi Pakistan

Javaid Iqbal

Pak Emirates Military Hospital/National University of Medical Sciences (NUMS) Rawalpindi Pakistan
Keywords:
ADHD, ASD, Prevalence, Socio-demographic factors
Abstract
Objective: To determine undiagnosed burden of autism spectrum disorder and attention deficit hyperactivity disorder and associated socio-demographic factors among adult psychiatric patients.
Study Design: Descriptive cross sectional study.
Place and Duration of Study: Study was conducted at Tertiary Care Hospital Rawalpindi, from Jun to Nov 2018.
Material and Methods: The sample population comprised of 1889 adult patients reporting for psychiatric evaluation and treatment at a tertiary care mental health hospital in Rawalpindi Pakistan. Autism Spectrum Disorder and Attention Deficit Hyperactivity Disorder were screened by using screening tools which are Adult Autism Spectrum Quotient (AQ) and ADHD Self-Report Scale-V1.1 (ASRS-V1.1) respectively. Relationship of age, gender, socioeconomic status, illicit substance use, marital status, education and response to treatment was assessed with the presence of ASD and ADHD.
Results: Out of 1889 adult patients screened through AQ and ASRS, 78.9% were screened negative on both the screening tools while 12.5% were positive on AQ and 13.5% were positive on ASRS. 8.6% of the screening positive patients had diagnosis of ASD and 11% had diagnosis of ADHD after clinical interview with the consultant psychiatrist. Ten patients had both ASD and ADHD. After applying the logistic regression we found that male gender, illicit substance use, low education and inadequate response to treatment had significant association with the presence of ASD and ADHD among the adult psychiatric patients.
Conclusion: This study showed a high prevalence of ASD and ADHD among the adult psychiatric patients of Pakistan reporting for the psychiatric evaluation. Special attention should be paid to the male and low education patients. Illicit substance use and poor response to treatment also emerged as independent risk factors linked with presence of ASD and ADHD among the target population.
Downloads
Download data is not yet available.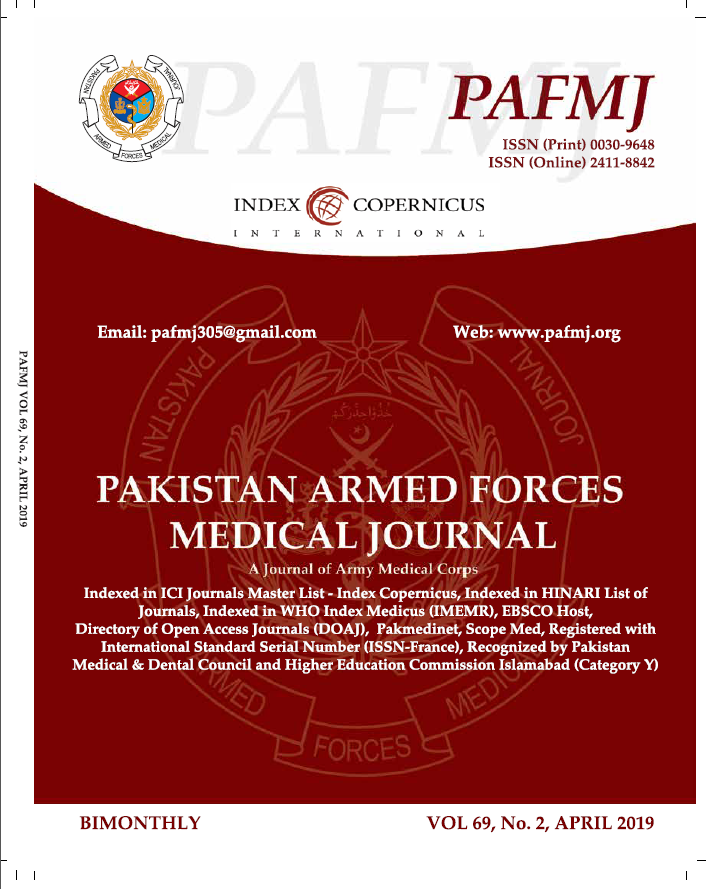 How to Cite
Khan, S., Qayyum, R., & Iqbal, J. (2019). PREVALENCE OF AUTISM SPECTRUM DISORDERS (ASD) AND ATTENTION DEFICIT HYPERACTIVITY DISORDERS (ADHD) AMONG ADULT PSYCH. Pakistan Armed Forces Medical Journal, 69(2), 419-23. Retrieved from https://pafmj.org/index.php/PAFMJ/article/view/2766
Section
Original Articles