NEEDLE ASSISTED LAPAROSCOPIC REPAIR (NALR) OF INGUINAL HERNIAS IN CHILDREN: OUR EXPERIENCE AT A TERTIARY CARE HOSPITAL
Keywords:
Inguinal hernia, Laparoscopic repair, Needle assisted
Abstract
Objective: To evaluate the effectiveness of needle assisted laparoscopic repair (NALR) of inguinal hernias inchildren.
Study Design: Cross-sectional analytical study.
Place and Duration of Study: Department of Pediatric surgery, Pak Emirates Military Hospital, Rawalpindi, from Aug 2017 to Apr 2018.
Material and Methods: A total of 50 patients were included in the study. All the patients were diagnosed with inguinal hernias on the basis of history given by parents and clinical examination. All patients underwent NALR of inguinal hernias after preoperative workup and informed written consent. Pneumoperitoneum was created in all cases by open method. Transumblical 3mm port was used for telescope along with a single 3mm port in lower abdomen for grasping forceps. Internal inguinal ring was closed by transfixing it with a loop suture using 22 G spinal needle and 2/0 prolene suture. Operative time and presence of contralateral processus vaginalis was noted. Patients were followed up at four weeks and three months for postoperative complications.
Results: Age of the patients ranged from 12 years, Mean ± SD was calculated as 40.36 ± 37.74. Regarding inguinal hernia site, n=17 (34%) have right sided hernia, n=13 (26%) have left sided hernia while bilateral hernia were present in n=20 (40%), 9 patients (18%) were found to have occult patent processus vaginalis peroperatively. Mean operative time ranged from 9 minutes to 25 minutes with Mean ± SD calculated as 15.94 ± 5.30. All operations were completed laparoscopically without need of conversion to open herniotomy. There were no intraoperative complications; No case of matachronous contralateral inguinal herniaor hydrocele formation and wound related complications during follow up at 4 weeks and 3 months.
Conclusion: LNAR of inguinal hernias in children is an effective, quick and safe technique which can be easily learnt due to its simplicity to perform. This technique can be employed in both male and female pediatric population with promising results. One main advantage is the ability to pick up the occult patent internal ring which can be repaired in the single stage to prevent the development of metachronous inguinal hernia in the later age.
Downloads
Download data is not yet available.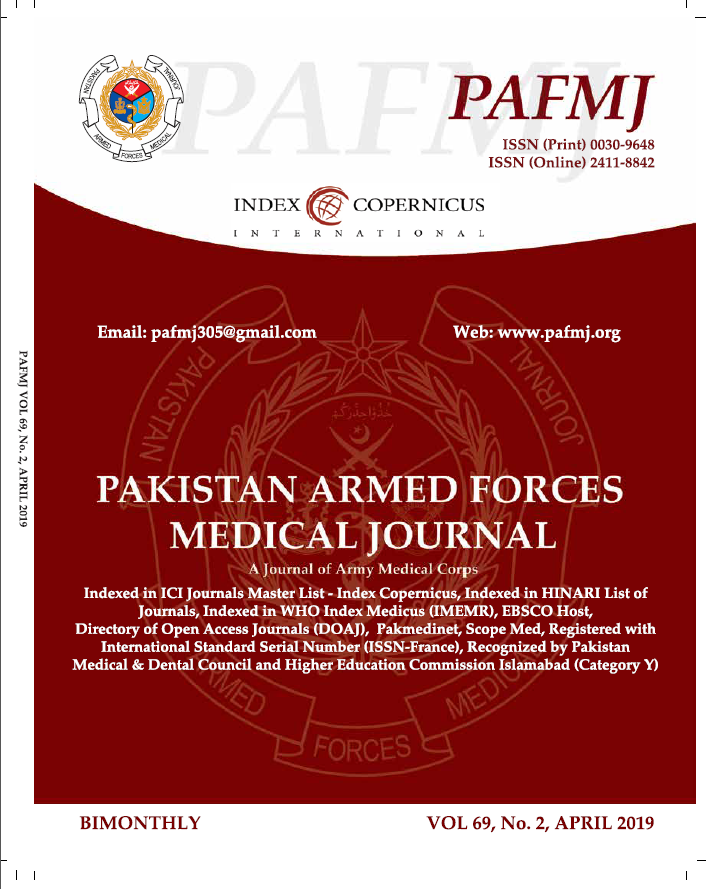 Downloads
How to Cite
Saleem, M. M., Ch, I. A., Awan, S. H., Ahmed, N., Safdar, C. aqeel, Afzal, T., … Kiani, S. K. (2019). NEEDLE ASSISTED LAPAROSCOPIC REPAIR (NALR) OF INGUINAL HERNIAS IN CHILDREN: OUR EXPERIENCE AT A TERTIARY CARE HOSPITAL. Pakistan Armed Forces Medical Journal, 69(2), 413–18. Retrieved from https://pafmj.org/index.php/PAFMJ/article/view/2765
Section
Original Articles