IMPACT OF MATERNAL ANEMIA ON PERINATAL OUTCOME
Rabiah Anwar

Pakistan Navy Ship Shifa, Karachi Pakistan

Kashif Razzaq

Pakistan Navy Ship Shifa, Karachi Pakistan

Nusrat Noor

Pakistan Navy Ship Shifa, Karachi Pakistan
Keywords:
Anaemia, APGAR score, Preterm delivery, Low birth weight, Stillbirth
Abstract
Objective: To determine association between maternal anemia and poor perinatal outcome.
Study Design: Cohort study.
Place and Duration of Study: Department of Gynaecology and Obstetrics, PNS Shifa Karachi, from Apr 2017 to Sep 2017.
Material and Methods: A total of 643 women fulfilled the inclusion criteria. Of these, 342 women were anaemic (haemoglobin <11g/dl in labor and on two previous occasions in current pregnancy) and were labeled as group A. A total of 301 women had haemoglobin >11g/dl at all times during pregnancy and were labeled as non-anaemic group B. Perinatal outcomes included preterm delivery, low birth weight (LBW) at delivery, intrauterine growth restriction, APGAR score at 1 and 5 min, intrauterine fetal death (IUD) were calculated and compared among the two groups.
Results: There were 229 (66.9%) cases of preterm delivery in group A compared to 44 (14.66%) in group B. Low birth weight (LBW) was observed in 124 (36.2%) cases in anaemic group and in 44 (14.6%) cases in non-anemic group B. There were 5 (1.4%) cases of stillbirth in anemic group as compared to 2 (0.66%) in non anemic women. In group A, new born of 109 (31.8%) cases showed Appearance, Pulse, Grimace, Activity, Respiration (APGAR) score <5 at 1 minute compared to 14 (4.6%) cases in other group. Similarly, the score <7 at 5 minutes was observed in 70 (20.4%) deliveries in group A and 12 (3.98%) in group B.
Conclusion: Low maternal haemoglobin levels are associated with increased risk of preterm delivery, LBW babies, APGAR score <5 at 1 min and IUD.
Downloads
Download data is not yet available.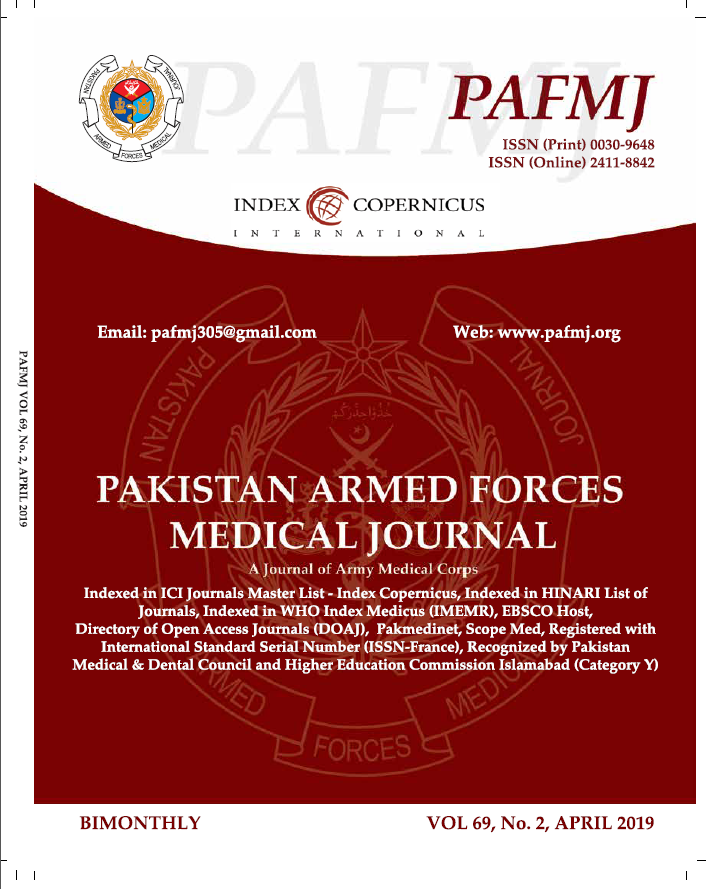 How to Cite
Anwar, R., Razzaq, K., & Noor, N. (2019). IMPACT OF MATERNAL ANEMIA ON PERINATAL OUTCOME. Pakistan Armed Forces Medical Journal, 69(2), 397-402. Retrieved from https://pafmj.org/index.php/PAFMJ/article/view/2762
Section
Original Articles