RESPONSE OF RECOMBINANT HUMAN GROWTH HORMONE IN ISOLATED GROWTH HORMONE DEFICIENCY
Recombinant Human Growth Hormone
Shahid Aziz

Combined Military Hospital Quetta

Salman Ali

Military Hospital Rawalpindi

Uzair Maqsood

Military Hospital Rawalpindi

Mehboob Sultan

Military Hospital Rawalpindi

Shahida Badshah

Combined Military Hospital Rawalpindi
Keywords:
Growth hormone (GH), recombinant human growth hormone Therapy (rhGHT)
Abstract
Objective: To observe the response of growth hormone in isolated growth hormone deficiency. Moreover the response was compared when treatment was initiated earlier or later in childhood.
Design: Quasi experimental study.
Place and Duration of Study: The study was conducted in the department of paediatrics, Military Hospital Rawalpindi, from January 2001 to January 2006.
Patients and Methods: Thirty children (19 boys, 11 girls) with isolated growth hormone deficiency, aged 3-17 years (mean 7.2+3.4) were identified. Their mean growth velocity was 1.8 cm/year (SD 0.6). They were treated with intramuscular injections of recombinant human growth hormone (rhGHT) (0.1 U/kg) 06 times a week for first three years of treatment.
Result: After three years of rhGHT the mean height gain was 33.5 cms (SD 8). Mean height gain in 1st year was 15.5 cms (SD 4), in second year 10.4 cms (SD 2.8), in third year 7.6 cms (SD 2.0). Mean total height gain was 40.6 cms (SD 4.2) when treatment was started before the age 06 years was 28.8 cms (SD 7.2) when treatment was started after the age 06 years (p < 0.05).
Conclusion: This study clearly demonstrates that children with isolated growth hormone deficiency treated with intramuscular rhGH resulted in increase in growth velocity but was more pronounced when started early (before age six years).
Downloads
Download data is not yet available.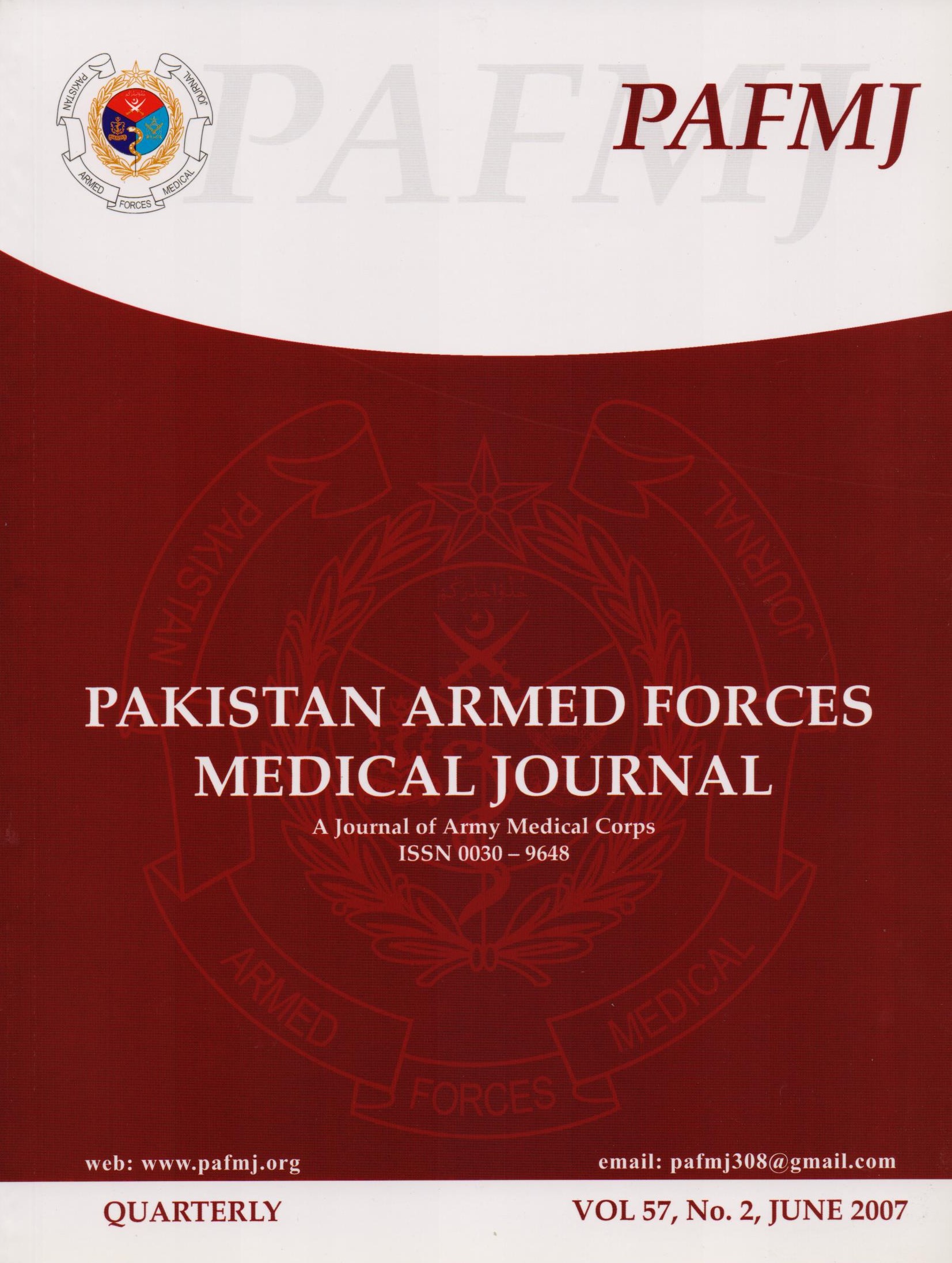 How to Cite
Aziz, S., Ali, S., Maqsood, U., Sultan, M., & Badshah, S. (2007). RESPONSE OF RECOMBINANT HUMAN GROWTH HORMONE IN ISOLATED GROWTH HORMONE DEFICIENCY. Pakistan Armed Forces Medical Journal, 57(2), 129-134. Retrieved from https://pafmj.org/index.php/PAFMJ/article/view/276
Section
Original Articles