ANTIBIOTIC RESISTANCE: PUBLIC KNOWLEDGE AND PERCEPTION OF ANTIBIOTIC USE IN RELATION TO SOCIAL DETERMINANTS
Keywords:
Knowledge, Antibiotic Use, Antibiotic resistance, Antibiotics
Abstract
Objective: To assess the knowledge and perception of appropriate use of antibiotics, when to discontinue the course once the treatment begins and the conditions/illnesses antibiotics treat in relation to social determinants in residents of Wah.
Study Design: Cross sectional-analytical study.
Place and Duration of Study: One year from January to December 2017 in Wah, Pakistan.
Material and Methods: A two stage cluster random sampling technique was used. A total of 400 participants aged 16 years and older completed the validated questionnaire. Chi-square test of significance was applied to determine the relationship between social variables with dependent variables, p-value<0.05 was taken as significant.
Results: Study results showed 114 (28.5%) respondents had wrong perception that using antibiotics previouslygiven to friends/family is a right thing to do. Buying or asking the doctor the same antibiotics that were previously used to treat similar symptoms was considered to be true by 153 (38.3%) participants. The difference between the responses to discontinuation of antibiotic once the treatment begins with household composition (Chi-square=22.723, p=0.012), level of education (Chi-square=46.352, p<0.001), occupation (Chi-square=25.016, p=0.005) and monthly income (Chi-square=38.714, p<0.001) came out to be statistically significant. Respondents who were more educated showed higher percentage in identifying the condition (cold and flu) not requiring antibiotics as 38 (62.3%) in masters and 71 (56.3%) in bachelors category correctly identified it as false.
Conclusion: The study results indicated that young people and those with a lower level of education and socioeconomic profile lacked the knowledge more than any other group.
Downloads
Download data is not yet available.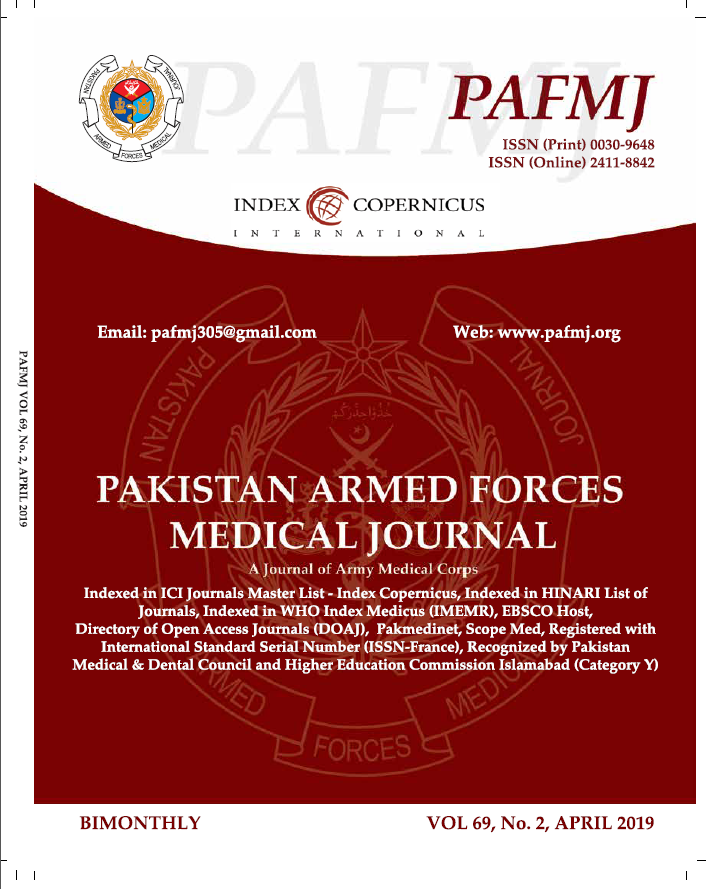 Downloads
How to Cite
Shan, H. `, Mashhadi, S. F., & Maqbool, S. (2019). ANTIBIOTIC RESISTANCE: PUBLIC KNOWLEDGE AND PERCEPTION OF ANTIBIOTIC USE IN RELATION TO SOCIAL DETERMINANTS. Pakistan Armed Forces Medical Journal, 69(2), 319–25. Retrieved from https://pafmj.org/index.php/PAFMJ/article/view/2747
Section
Original Articles