ASSOCIATION OF INTERNAL ASSESSMENT WITH FINAL RESULT OF SECOND PROFESSIONAL MBBS EXAMINATION
Keywords:
2nd year MBBS class, Professional exam, Internal assessment
Abstract
Objective: To explore whether the performance of a 2nd year MBBS student in subject of physiology by continuous assessment method as determined by internal assessment correlates to the final summative evaluation in 2nd professional examination.
Study Design: Cross sectional analytical study.
Place and Duration of Study: Army Medical College, Rawalpindi, from Jan to May 2017.
Material and Methods: Data pertaining to the result of 2nd Professional MBBS examination and internal assessment in the subject of Physiology of the whole 2nd year MBBS class was used making a total sample size of 173. Sample size was calculated using the software G Power version 3.1.9.2. Data were analyzed using SPSS version 23. Mean and standard deviation were calculated for numerical variables. Correlation between marks of 2nd Professional examination and internal assessment was calculated using Pearson Correlation. Association between internal assessment and the result of 2nd Professional examination was computed using Chi Square test and Odds ratio. Alpha value was kept at 0.05.
Results: There were 101 (52.4%) male and 72 (41.6%) female students out of total 173 with a mean age of 20.01 ± 0.69 years. Total marks of 2nd professional examination and internal assessment were normally distributed with mean values of 126.43 ± 17.56 and 36.79 ± 5.9 respectively. Results of the present study reflect significant correlation of 2nd year MBBS professional result with the internal assessment.
Conclusion: A definitive correlation is found between the internal assessment performance and the summative final profession result in 2nd year MBBS students.
Downloads
Download data is not yet available.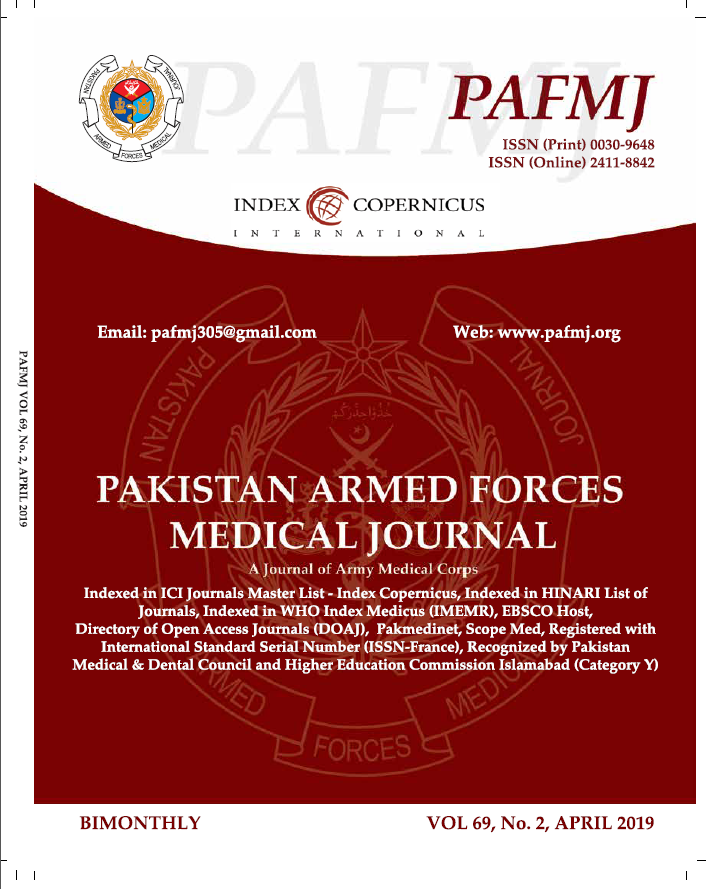 Downloads
How to Cite
Khan, M. A., Nadeem, A., & Latif, N. (2019). ASSOCIATION OF INTERNAL ASSESSMENT WITH FINAL RESULT OF SECOND PROFESSIONAL MBBS EXAMINATION. Pakistan Armed Forces Medical Journal, 69(2), 225–29. Retrieved from https://pafmj.org/PAFMJ/article/view/2727
Section
Original Articles