ASSESSMENT OF SEVERITY OF ULCERATIVE COLITIS ON FIRST COLONOSCOPIC EXAMINATION
Keywords:
Activity index, Colonoscopy, Disease severity, Inflammatory bowel disease, Ulcerative colitis
Abstract
Objective: To assess the severity of ulcerative colitis on first colonoscopic examination.
Study Design: Prospective cross-sectional (correlational) study design.
Place and Duration of Study: Study was conducted in Gastroenterology Outpatient Department of Pak Emirates Military Hospital, Rawalpindi, from Nov 2017 to Oct 2018.
Methodology: An aggregate of 200 patients within the age range of 12-70 years, were included in the study
through non-probability consecutive sampling. The data was collected by the self-administered questionnaire
including age, gender, stool frequency, P/R bleed, systemic features of ulcerative colitis & colonoscopic findings.
Effectiveness of the procedures was noted on a pre-designed performa and the endoscopic assessment was based upon mayo score severity of colitis graded from Normal (0) to Severe (3). Data was analyzed by using SPSS-19.
Results: The mean age of the participants was reported 38 ± 2.1 years. Out of 200 participants 104 (52%) were
male, diarrhea with PR bleed was positive in 180 (90%) & anemia in 154 (77%). Colonoscopic findings showed
that 72 (36%) were with Left sided colitis (Montreal Class E2) & 82 (41%) with proctitis (Montreal class E1). Severe disease (Mayo endoscopic Score 3) was positive in 118 (59%) patients.
Conclusion: Assessment of severity of UC is important as it determines the long term management & also
valuable for risk stratification to predict the prognosis. Our findings feature the requirement for system level
enhancements to encourage the proper delivery of colonoscopy services dependent on individual risk.
Keywords:  , , , .
Downloads
Download data is not yet available.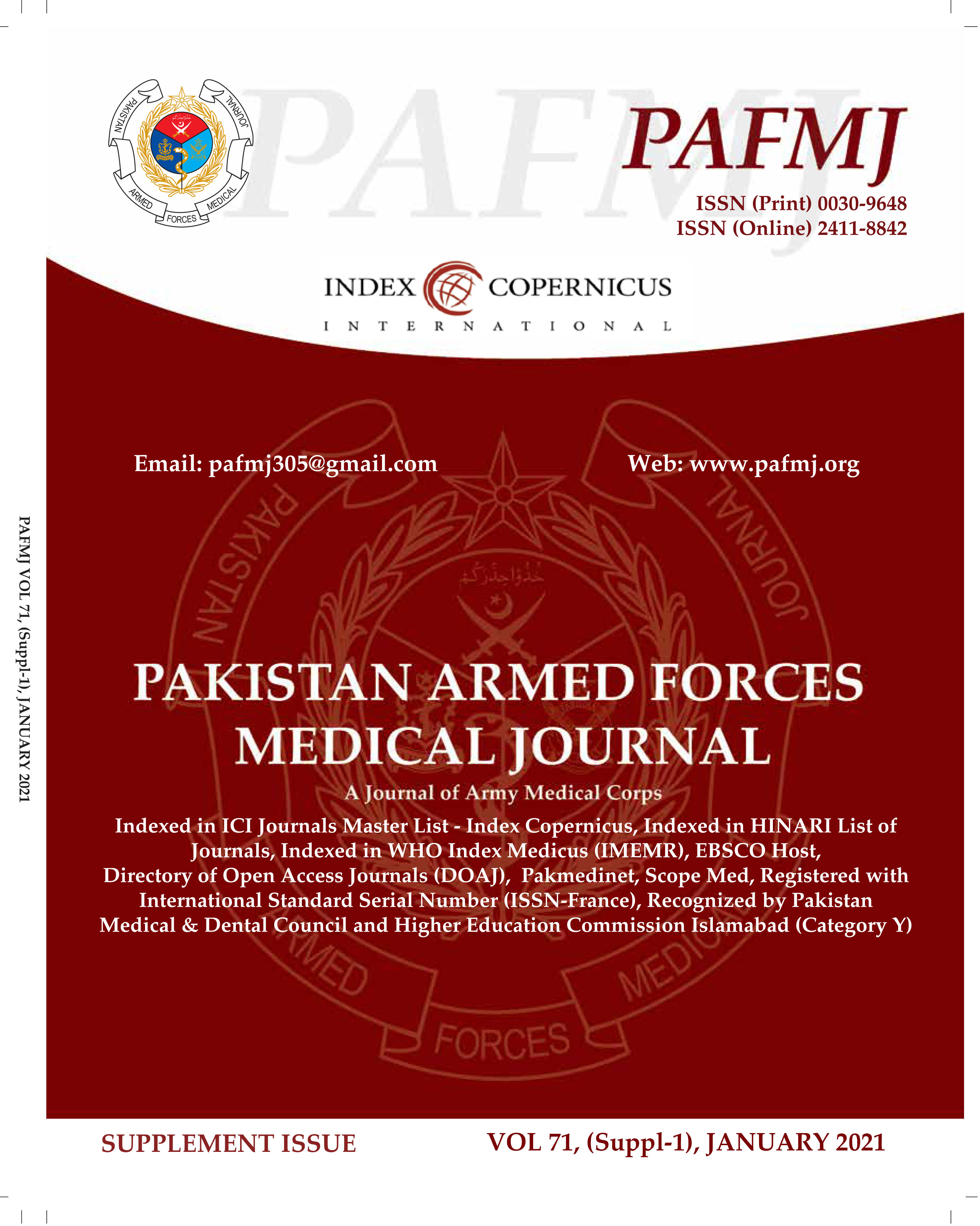 Downloads
How to Cite
Tariq, R., Abbas, A., Haider, E., Zubair, U. B., Saeed, F., & Qureshi, Z. A. (2021). ASSESSMENT OF SEVERITY OF ULCERATIVE COLITIS ON FIRST COLONOSCOPIC EXAMINATION. Pakistan Armed Forces Medical Journal, 71(Suppl-1), S175–79. https://doi.org/10.51253/pafmj.v71iSuppl-1.2715
Section
Original Articles