EFFECT OF AGE, GENDER AND DURATION OF DIABETES MELLITUS ON THYROID DYSFUNCTION IN PATIENTS OF DIABETIC
Kamran Ali

66 Medical Battalion, Lahore Pakistan

Sajid Ali Shah

Combined Military Hospital Skardu/National University of Medical Sciences (NUMS) Pakistan

Syed Murtaza Ali

Combined Military Hospital Loralae/National University of Medical Sciences (NUMS) Pakistan

Raja Jibran Akbar

123 Medical Battalion, Tolti Pakistan

Syed Qasim Raza

Quaid-e-Azam International Hospital, Islamabad Pakistan

Sadia Kadir

Jinnah Postgraduate Medical Centre, Karachi Pakistan
Keywords:
Diabetes mellitus, Glycosylated hemoglobin, hypoglycemia, hypothyroidism, Thyroid dysfunction
Abstract
Objective: To compare the effect of age, gender and duration of diabetes mellitus on thyroid dysfunction in patients of diabetic
Study Design: Comparative cross sectional study.
Place and Duration of Study: Medicine department, Combined Military Hospital, Peshawar, from Oct 2015 to Oct 2017.
Methodology: The study was conducted after taking permission from hospital ethical review committee. Information was entered in the proforma, which included demographic information like age in years, gender, duration of disease and type of diabetes mellitus (DM) type. Already diagnosed patients with diabetes mellitus were included in the study. Thyroid function tests were carried out by standard laboratory procedure.
Results: A total of 179 patients were included in our study, 114 (63.7%) were female and 65 (36.3%) were male. Mean body mass index in our study was 29.85 ± 3.88 kg/m2. Out of 179 patients 46 (25.7%) had thyroid dysfunction (TD). Out of the 46 patients with thyroid dysfunction, 14 patients (7.8%) had clinical hypothyroidism, while subclinical hypothyroidism was seen in 25 patients (14%). Clinical hyperthyroidism was reported in 3 (1.7%), while subclinical hyperthyroidism in 4 (2.2%) patients respectively.
Conclusion: Age of patients, gender and duration of disease affect thyroid functions in patients with diabetes mellitus. Thyroid profile should be carried out in diabetic patients whose blood sugar level is difficult to control.
Downloads
Download data is not yet available.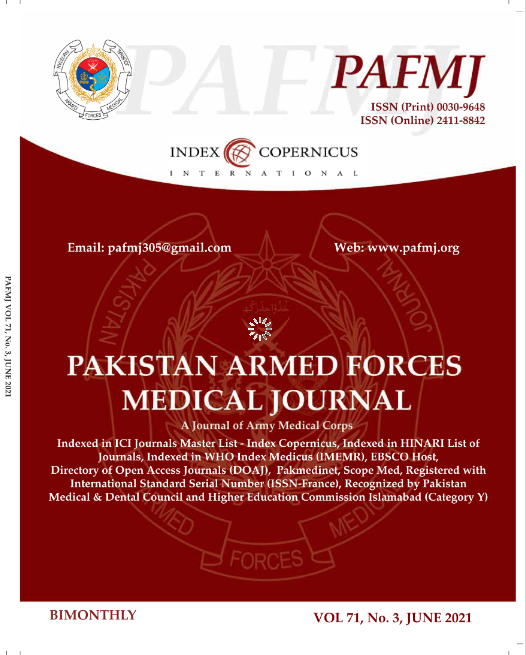 How to Cite
Ali, K., Shah, S., Ali, S., Akbar, R., Raza, S., & Kadir, S. (2021). EFFECT OF AGE, GENDER AND DURATION OF DIABETES MELLITUS ON THYROID DYSFUNCTION IN PATIENTS OF DIABETIC. Pakistan Armed Forces Medical Journal (PAFMJ), 71(3), 853-56. https://doi.org/10.51253/pafmj.v71i3.2692
Section
Original Articles